FUN LINKS
Chicago Theater
and also in Los Angeles...
and also in Baltimore...
Blogs We Love
People We Love
POSEIDON!
Handblog Archives
And also...
David interviews Margaret Cho
read the handblog...
3/31/2005
My New York Way of Life
So...Where was I? Oh, I woke up and did a little cruising, I mean walking, around Chelsea, and spoke with Ryan Mackey my little motivator on the phone several times. He informed he had secured preview tickets to Roundabout Theater's 'A Streetcar Named Desire' with Natasha Richardson and John C. Reilly. Now granted, this was a preview- it opens April 26, but John C. Reilly is going have to appear on Extreme Makeover to fit into the role of Stanley Kowalski. At least the night I saw him. I felt for Ms. Richardson who ended up playing the role more for comedy because there was simply no sexual tension between her and Mr. Reilly. This could totally change by opening night, but I thought the seething sexual tension between the fading delusional Blanche DuBois and the sexy beast of Stanley Kowalski was supposed to be a pretty important part of the play. There was none here. Nil. Nada. Zero. Reilly, who is a wonderful actor seemed very miscast, more suited for the role of Mitch, Blanche's suitor ( a role he played). Watching Mr. Reilly perform Stanley was like watching an angry drunken Ralph Kramden. That essential moment when he takes off his shirt to get 'more comfortable' is ruined. There's no way Blanche would find that doughy body sensual in the least. Pity...,

It's easy to tell the truth about shows you've seen when you don't actually know the people in them. Liam Neeson was there as was John Benjamin Hickey who cruised Ryan.

Afterwards we went and met Big Gay Jim and Jihee at this tiny loud big gay piano bar called Marie's Crisis. People were singing Doe, a Deer at the top of their lungs! I had an admirer there. He was bout 48, 5' 7" and bald as a billiard ball. He wasn't that obnoxious so when he asked me for a kiss I gave him a big smackin' Grandma kiss. Nice to know I still got it...,

posted by David on 3/31/2005 10:02:00 PM | Link |
3/30/2005
My New York Way of Life
Arrived in NYC Saturday Mar. 26, at about 9am. Yes, I had to wake at 4:15am, but I did it. I landed in Newark, took the train to Penn Station and was greeted by a half eaten barbeque chicken carcass in the middle of the sidewalk. It seemed to smile at me and say welcome to NYC. I walked on block to my oh so groovy and economical Chelsea Star Hotel and checked into my pink pop art room with the stainless steel floor and fell asleep for 3 hours.

posted by David on 3/30/2005 09:11:00 PM | Link |
My Way of Life
I'm back from my whirlwind 3 day New York trip and I have much to report but it's late and Ryan H. Mackey sent me one fo the most tasteless links I've ever seen in my life. Don't you agree?

posted by David on 3/30/2005 06:02:00 AM | Link |
3/24/2005
My Way of Life
I'm on the board of directors of this lousy company...,

We had a Hell in a Handbag board meeting and it was the first one in quite some time where we had to sit and discuss goals. Where we are, where want to be. Board member development is crucial for us if we are to grow in a way that can free myself and Hickson to help move the company forward with our own special talents. We're looking for candidates. We've found a couple already.

While we were setting up the board meeting we did what most people do, discussed current events. I had no idea that Teri Schiavo was in the states she's in due to a heart attack induced by an eating disorder. Perhaps that sheds a little more light on the horrible guilt her parents must feel, but my goodness, this is not the issue that it's been made out to be. People make this decision 1,000's of times a day and if that were me, I would be mortified to know that a. I had been allowed to live into at condition for so long and b. that those photos were being published

worldwide

on a daily basis!

She had an eating disorder, she obviously had body/appearance issues. I'm sure she would not want those glassy eyed, drooling pictures of her released! Thanks (guilty or selfish?) mom and dad for letting the world see me in at my absolute worse!

Oh, and Tim Howard brought this to my attention. God, I hate George W....,

posted by David on 3/24/2005 04:07:00 PM | Link |
3/23/2005
My Way of Life
I had jury duty today. Okay. I'm a citizen of these United States and I have to do my part. Besides, it was downtown at city hall -civil court. I had a 90 minute Marshall Fields lunch and shop break. I don't mind going to jury duty, but...., The holding sections for potential jurors are divided into two section. The side where they watch TV and the QUIET section, where people supposedly can read and not be disturbed. This was a perfect opportunity for me to start learning my lines for 'The Bad Seed', but apparently some people mistook the QUIET section of the room for INANE SMALL TALK side of the room. My God, people will talk just to hear themselves talk.

I was trapped at a table with a group of women from 40-60 and a man in his 60's who talked about...,.

traffic, public transportation, the price of bottled water, Michael Jackson's trial, Michael Jackson's plastic surgery, the daughter that lives in Nebraska, how olive oil is cheaper in Chicago then it is Nebraska, watching TV, not watching TV, sports, grandfathers and their grandkids playing habits, prostate cancer, uranium seeds implanted after surgery, diabetes, the brother who wouldn't stop drinking liters of soda after diagnosed with said affliction (he's dead now), cell phones- prices/service, how all the kids want the fancy features, tow trucks, The Lennon Sisters (I was tempted to add my two sense about them), invalid parents, renting vs. buying, Wal-Mart, diets, caffeine, sugar, salt, rape, parking, prescriptions, alcohol, work hours, living with your parents, Mayor Daley, cheese, fast drivers, train accidents, pickles, margarine, lawns, and that's just the tip of the iceberg. I tried to ignore it, I tried concentrate, I desperately looked for another seat. I finally had to call Chris and vent. He laughed at me. It go to the point, where I just wanted to turn to them and scream at the top of my lungs a la' Pee Wee Herman,

" SHUT UP! SHUT THE FUCK UP! DO YOU THINK I WANT TO HEAR ABOUT YOUR FUCKING INANE RAMBLINGS ABOUT THE PRICE OF BOTTLED WATER YOU FUCKING MORONS! STOP WASTING MY OXYGEN! GO THE THE OTHER SIDE OF THE ROOM. THIS IS THE

QUIET

SIDE, NOT THE MINDLESS SMALL TALK SIDE. WHAT PART OF THE

QUIET

SIDE DO YOU NOT UNDERSTAND? IT MEANS TO

FUCKING SHUT YOUR MOUTH!

GO FUCKING BUILD A TREEHOUSE AND FORM AN IDIOT CLUB AND LEAVE ME ALONE!"

I decided not to say this and continued reading my script turning away and not looking at them at all. I bought a clearance J. Lindeberg spring jacket at Marshall Fields and it made me feel better.

We had callbacks last night and are now in the excruciating process of choosing the cast for

SCARRIE

(no exclamation)

The Musical

. It will be finalized by the next Monday. That's all I can say. Really. No. Stop asking me.


posted by David on 3/23/2005 05:44:00 AM | Link |
3/21/2005
My Way of Life
It's my NEW TV. Compliments of my ole' buddy Scottie...,
posted by David on 3/21/2005 11:50:00 PM | Link |
My Way of Life
Second day of auditions. Another 30 actors. 95% of which were women. I know there are male actors in the city. I mean, I've seen some in shows. All is not lost though, we DID see some people that excited and delighted us. I have to say the competition for the bio-women's parts is fierce. Callbacks are tonight and my head is spinning.

posted by David on 3/21/2005 04:50:00 PM | Link |
3/20/2005

Evie Harris of 'ASTEROID' fame.

posted by David on 3/20/2005 06:58:00 AM | Link |
My Way of Life
I was at the theater from 10:30 until 5pm. We saw about 30 actors, mostly women. We need more pale youngish guys to audition for the role of Carrie White. There are a couple possibilities. Poor Adam Cook read until his voice gave out and I was Miss Collins a million times over. Cheap Jackie made us eat Dominos Pizza. Yuck!!!!

I

finally

saw 'Girls Will Be Girls' lent to me by the famous Chicago playwright Edward Thomas Herrera. Wow- I guess I've been living under a rock because this was a freaking f8cking funny film, well acted by all of the leading ladies and cleverly written by a Mr. Richard Day. My particular favorite was Jack Plotnick as the aging , bitter alcoholic has been actress (she starred in 'Asteroid') Evie Harris. I think I could relate this character the most..., On second thought so could most of the ensemble members of Hell in a Handbag. So, if you're like me and too busy to rent a lot of movies, this is a must see. Thank you David and Edward.

posted by David on 3/20/2005 06:32:00 AM | Link |
My Way of Life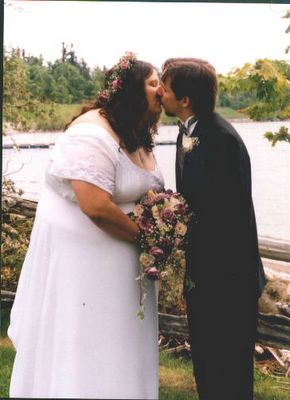 Can't find love? Well Christian and Mandy did! So stop your whining..., Isn't exciting finding out about all the horror stories that go in other people's lives?

posted by David on 3/20/2005 06:18:00 AM | Link |
3/18/2005
My Way of Life
Can I spot a trend or WHAT????

posted by David on 3/18/2005 09:42:00 PM | Link |
My Way of Life
Yesterday was certainly a long and emotional day. It started with the funeral of my oldest and dearest friend's dad who was like a dad to me, and everybody he knew. There was nobody quite like this man- except to say he was one of those genuine examples 'Gruff exterior, heart of gold' type of person. He also had the driest wit and most dead-on delivery of anybody I've ever met, and I will miss the hell out him. There's so so much more but it feels trivial to express my feelings publicly in a silly Blog so I won't, but it was part of my day.

Following an afternoon of particularly mind-numbing work I had to go to rehearsal for The Bad Seed. I think I might have been a couple of minutes late and had earlier given an extra rehearsal conflict so I almost shrunk into my chair when the director rightfully vented about people doing just those two things. The majority of my scene(s) are with Todd Schaner who plays 'Mom' in Tiff and Mom but will be playing this role as Christine Penmark, the hammy overacting mother in the film. I love working with Todd. He's soooooo good, he makes me good. It's weird, not being the boss and not playing a Diva, but it's also NICE not being the boss, and not playing a Diva. My character Miss Fern is uptight, and a bit scared- of Rhoda and of tarnishing the good name of her school.

10pm- you'd think my day was over? Not true dear Handbaggers. I had to go to Taylor Ross's house and listen to his newly disco-fied version of Miss Collins punishment song, 'Gonna Make You Sweat', which I adored. It made me want to dust off my disco fans and start to boogie. I ALSO heard Aaron Smith's ingenious song 'Mad At The Dirt' a song for a special secret surprise project I will be announcing soon...,

posted by David on 3/18/2005 07:14:00 PM | Link |
3/17/2005

DON'T CALL US, WE'LL CALL YOU

posted by David on 3/17/2005 05:59:00 AM | Link |
3/16/2005
My Way of Life
I'm working extra hours to make up for a trip to NYC I'm taking next week to see my pal Charles Busch and Julie Halston perform the 130th anniversary of Vampire Lesbians of Sodom with my friend and taskmaster Ryan Mackey. I'm also working on

SCARRIE

changes. I'm also getting ready for SCARRIE auditions, but really, Jackie and Margot are doing that, I'm just worried nobody I like will show up. I'm also in rehearsals for another show. I spent two hours at the home of Taylor Ross last night going over the possible new number for Margaret White, 'These Are Godless Times'. About 10 minutes into the process I discovered errors in the song. I don't even know what to call them, but certain verses didn't match the length, syllables of others, so I had to do some last minute ad-libbing, like finding rhymes for Lola Falana and Copacabana. Can you guess that I chose? I listened to Taylors rough demo of the finale. Sometimes we aren't always in sync because Taylor is a 'rocker' and while I adore Roxy Music, I certainly don't want that feeling in a humorous upbeat cheesy fake rock number finale. I had to watch Taylor wince as I told him 'Try to Disney-fy it!...., You know Broadway rock....,' I had no point of reference- this is when I wish I knew a little more about writing music, so I tried to sing the theme to Perfect Strangers, but he didn't know the show. Then I had to describe the idiotic show to him- 'You know, uptight cousin Larry and Balki always mispronouncing words and turning classic American phrases into a jumbled laugh riot'...., The song doesn't really sound like the theme from 'Perfect Strangers' but the spirit of it does. Any wonder why Taylor has trouble understanding me? By the way, Taylor also is the musical director for The Feast of Fools Show. That's how I met him. I had to say that to appease Fausto Fernos.

When I returned home (I skipped the gym because it was after 9 by then) I FINALLY saw an episode of 'The Starlet'. I enjoyed it. For Faye of course. Viveca Fox is okay and the big Queenie guy, 'ACCLAIMED' casting director, Joseph Middleton tries to be Carson Kressley and Simon Cowell rolled up into one. Surprisingly, Faye does not have the scariest facelift. That honors goes to the flunky guide of 'The Starlets', Katie Wagner who is described as a former actress in her bio. From another dimension? I don't recall seeing her in anything. She's got this facelift that looks like it was done by Geppetto. None of the contestants really impressed me but they were doing a hair product commercial on the beach. I have to say the most annoying contestant hails from Chicago, one Miss 'Katie' , who went to the prestigious Columbia College in Chicago. She's pretty bad and her 'confessional' comments just make you want to smack the piss out of her. Favorite moment? Faye telling an actress that if you request the text to be changed you come across as a Primadonna..., Oh, and I also liked it when they made the girl cry when they told her she had to go to the gym (she's not fat by Chicago standards but a cow for LA) when this idiot knew she was on a Reality Show called 'The Starlet' on the 'WB'.

posted by David on 3/16/2005 04:53:00 PM | Link |
3/15/2005
My Way of Life
busybusybusybusy. Yesterday was the read thru of the show I'm in Tiff and Mom's The Bad Seed and it's fun and a little weird sitting among (mostly) strangers, that seemed a bit shy. The most talkative was a young man I later found out was 14 years old- I forgot his name but he will playing the roll of the doomed Claude Daigle, and was a delight. The show is funny with the usual assortment of Tiff and Mom jokes blended within the text of 'The Bad Seed', so we shall see, shan't we? I wrote a new song for

SCARRIE

. Yes, this is besides the finale. 'These Are Godless Times' to be sung by Margaret White while paying a visit to poor Mrs. Snell who just wants finish her afternoon cocktail. I'm particularly fond of the lyrics

*THESE ARE GODLESS TIMES! TAKE A LOOK OUTSIDE YOUR WINDOW
SEE YOUR NEIGHBORS ACTING SINFUL
NOW THE GOLDEN CALF'S A CAR, GOMMORAH'S NOW A SINGLES BAR

THESE ARE GODLESS TIMES! CHARLES MANSON, SHARON TATE!
TRICKY DICK AND WATEGATE! WOMEN THINK THAT THEY CAN CHOOSE!
TEENAGERS ON DOPE AND BOOZE


(My we like ourselves, don't we?) .

*All rights reserved, Copyright, David Cerda 2005- If I knew how to do that copyright symbol on this I would...,

posted by David on 3/15/2005 09:55:00 PM | Link |
3/14/2005
My Way of Life
The FABULOUS Rudolph the Red-Hosed Reindeer 'Being Normal Isn't Normal At All' shirts designed by Mike Miller and Ron Kelly are finally posted in the Handbag Store. I highly recommend this one as it's message is universal and is just one of our coolest shirts ever. PLEASE buy one. PLEASE. Pretty please?

posted by David on 3/14/2005 08:37:00 PM | Link |
My Way of Life
Yesterday I had a fabulous day. I got my firm ass up to Arlington Heights to see HIAH ensemble member Lon Ellenberger perform. Lon is a counter tenor. What is a counter tenor? Well, it's a singer that works at a diner. No, not really. Pardon me while I hold my sides with laughter. This is what a counter tenor is. Lon hits incredible notes and watching his expressive face is just as enjoyable as listening to him perform. We're all very proud of him. He never sounds like one the Monty Python fishwives when he's singing. A male counter tenor is a beautiful thing, kind of surreal and magical. I have to figure out a way to work it into a show.

Later in the evening I finally made it to BC Kalz's new apartment and had a lovely dinner with my partner Christopher and everybody's favorite scene stealer, Ed Jones. The dinner was delicious and we watched two VERY GOOD Simpsons episodes. Just when you think they're slipping they surprise you. The first was new and very sitcomish x 1,000,000. Homer posing as Selma's husband so she could adopt a Chinese baby. So, of course the whole family had to go to China. The second was a surprisingly controversial one. They made such a stink over the gay marriage episode but this one was a scathing (Simpson scathing) attack on the the big drug companies which just touched on about every single issue concerning prescription drugs you could think of. A+ to the Simpson people!

When I got home I did what I've been since returning to Puerto Vallarta. NO, not that, smarty-pants Hickson, the other thing..., Finishing up the 2005 edits for SCARRIE (no exclamation point)- The Musical, which I did and sent out to my proofreading elf, Ryan Mackey in NYC, who knows how to format this crap. I tried to number the scenes and songs but I lose interest interest in this complicated mathematical process at around scene 5. I settled on the name of the finale- 'So it Goes'. It's sort of like a 'here's what we learned' finale, but with lasers and bold guitars.

posted by David on 3/14/2005 03:42:00 PM | Link |
3/13/2005

CHARIOTS OF LEE REMICK

posted by David on 3/13/2005 04:41:00 AM | Link |
My Way of Life

JESUS AS MARILYN MONROE



I found this incredible site via my Joan Crawford Yahoo Group. Hours of enjoyment.

posted by David on 3/13/2005 04:34:00 AM | Link |
3/12/2005
My Way of Life
In case you wanted to do some early birthday shopping for me...,

posted by David on 3/12/2005 05:01:00 AM | Link |
3/11/2005
My Way of Life
Next time your invited to a 'Pumping Party' you'd better make sure you get the specifics...,

posted by David on 3/11/2005 08:25:00 PM | Link |
My Way of Life
Okay- let's try this from work. In other news I was cast in a show I'm very excited to be a part of- Tiff and Mom's take on 'The Bad Seed' with Corn Productions- it will be a musical parody and I will be playing the role of the oh so proper head of the Fern School, Miss Fern. Who are Tiff and Mom you ask? They are the creation of Robert Bouwman and Todd Schaner, the co-founders of Corn Productions. A slutty alcoholic mother and her overeating slightly retarded daughter in a very pre-Absolutely Fabulous co-dependent relationship.

True Confessions- of course I was desperate for the part of Mrs. Hortense Daigle, but since this is a musical and apparently Mrs. Daigle's song is a tour de force your mama just couldn't pull it off. Adam Cook, however could and it will be fun to work with him. I'm glad for him- he needs the work. I think to will be just grand to play a real lady for a change.

posted by David on 3/11/2005 04:42:00 PM | Link |
My Way of Life
The Blogger.com site was either f*cked up all afternoon or the geeks at work are preventing Bloggers from Blogging because I swear I had a very intricate pretty Blog with plenty o'clever patented Cerda links but it disappeared. I have to work on SCARRIE so I'll say this. I was a guest on the Fausto Ferno's Feast of Fools Podcast with music critic Gregg Shapiro and I had a pretty good time. Listen to it HERE. By the way, Gregg gives SCARRIE the Musical alumni Heather Moran a very nice review.

posted by David on 3/11/2005 06:17:00 AM | Link |
3/06/2005
My Way de Vida
Second try. My first post was deleted. Now I'm ANNOYED. We leave Puerto Vallarta tomorrow and have made many 'amigos'- that's friends in Spanish. Kathy and Andy, actors from Canada. Mary Ruth, a jewelry designer from Chicago and many men in swim trunks. I finished a new SCARRIE The Musical song on the beach, 'Things Are Gonna Be Different'. I lost my wallet but it was found with all of my money in it, and we saw a community theater production of 'Steel Magnolias', which was an earnest enjoyable effort. I was able to speak to the director and owner of the theater afterwards. Is Puerto Vallarta ready for Hell in a Handbag?

posted by David on 3/06/2005 06:32:00 PM | Link |
3/02/2005
My Way of Vida
Hola Amigos- Yo soy en Puerto Vallarta y ecribando los changes para SCARRIE El Musico en la playa. Muchos hombres guapo y SOL.

Hope you like my Spanglish- no links today.

Adios!

posted by David on 3/02/2005 10:42:00 PM | Link |