FUN LINKS
Chicago Theater
and also in Los Angeles...
and also in Baltimore...
Blogs We Love
People We Love
POSEIDON!
Handblog Archives
And also...
David interviews Margaret Cho
read the handblog...
9/27/2006
My Way of Life- Go Alex!
In the 'holy shit!' category- Alex Billings, our Alex Billings is appearing on Grey's Anatomy and even more shocking? Ellen Pompeo can quote Bette Davis and every line from Mommie Dearest.

posted by David on 9/27/2006 10:57:00 PM | Link |
My Way of Life
I found this on Andymatics' Blog. I don't watch the Daily show on a regular basis for very complicated reasons, but this is very funny, scary, and sad. Sort of like Hickson.

posted by David on 9/27/2006 09:26:00 PM | Link |
9/26/2006
My Way of Life


Ulla dance now?


Yesteday we sang From Good to Bad. Brigitte's Andrew Lloyd Webberish and the kitchen sink showstopper. We had fun. I was pleased how it sounded after a the first session. We blocked the parole hearing which leads into the song that ends Act 1. Everybody dances but me. Scott says it's because I'm special.

posted by David on 9/26/2006 09:33:00 PM | Link |
9/25/2006
My Way of Life
I jacked this survey off of Jere rigged. Mind you, I answered yes to some of the questions that applied to my past life...



You Are 52% Evil

You are evil, but you haven't yet mastered the dark side.
Fear not though - you are on your way to world domination.
posted by David on 9/25/2006 10:43:00 PM | Link |
My Way of Life
We have a Caged Dames countdown clock on the front page of this site. Every time I look at it I freak out. Things are going very well, I just freak out. Shawn Quinlan is putting everybody through there dance moves. Luckily Warden Hope isn't in many numbers. I swear that wasn't on purpose! The poor Warden doesn't even have a song. What a rip! I spent the weekend rehearsing under the steady hand of director Scott 'Lovely' Bradley. Saturday BC and I cut out early and escaped to WIG MOUNTAIN. We went through all of the wigs we had to see what would fit for who and we found quite a few we could use which is always good for the budget. Did I tell you about my new suit for Warden Hope? It's really quite lovely. And my shoes? Beautiful. Perhaps a nice wardrobe will distract from my acting abilities. I worked on lines, and I must admit it's easier then the Judy Scary Little Christmas monologue. I don't why I had such a hard time telling the story of the Christ child.

Yesterday I went to the Marathon '33 at the Strawdog Theater written by June Havoc. JUNE HAVOC. 'Dainty June' of Gypsy. The show is about her experience in the grueling and sadistic dance marathons of the '30's, and I personally enjoyed the show for many reasons. I am most definitely not a theater critic but the ensemble was just amazing and anybody who can direct that many people and keep things interesting deserves a tip of the hat Mr. Shade Murray. The lead, Kat McDonnell looked a lot like Cynthia Nixon of Sex in the City. I'm sure she hears that a lot. She plays June Havoc at 13, when she got involved in this whole circus of shame. It''s a bit of a stretch but she's so good you don't care. I liked it because it's based on truth. Desperate people dancing for food. It's really the oldest story in the world, isn't it? The play also went into June Havoc's Dainty June past and her lost identity, which I found fascinating. It's amazing she and her sister turned out as well as they did. There must have been some good in their mother. With a cast of 112 there are many familiar faces. Our friend Nick Lewis, Carmen Aiello, Mierka Girten and the always watchable Sara Sevigny to name a few. Go see it, dammit.

posted by David on 9/25/2006 06:30:00 PM | Link |
9/22/2006
My Way of Life
I saw a couple of movies last weekend. First was the film that all the Docker, baseball capped wearing 'guys' must have loved, The Wedding Crashers with Owen and Vince. I didn't like this movie-at all. It was the 40 Year Old Virgin for stupid people, and I loved The 40 Year Old Virgin, another top flick among the Bud rinking, fraternity, Teva wearing crowd. The Virgin had Steve Carell, and a clever cast, and sly, humor with the right mix of vulgarity. This Wedding thing just bashed you over the head with really 'lets get drunk and write this crazy shit that's totally , like 'so wrong' under the guise of trying to be politically incorrect' when in reality it was just boring, bordering on offensive, with a dumbed down version of Sophia Petrillo in the form of a foul mouthed Grandma, and a gorgeous slutty nympho after chubby loser Vince Vaughn. Owen Wilson is the luckiest guy in the world. He gets paid to sleepwalk his way through films. *1 Handbag

The other film was a rental. Brigitte Ditmars, of Hell in a Handbag's Caged Dames had mentioned it to me a long time ago and we finally picked it up. The Prize Winner of Defiance Ohio with Julianne Moore. It was based on the true story of housewife Evelyn Ryan from bestseller written by her daughter Terry 'Tuffy' Ryan. What a delight! Although Evelyn was married to a chronic alcoholic (Woody Harrelson in some of his best work), who squandered the family's meager resources on booze to the point of no food and eviction for the family, Evelyn managed to always (well almost always) look on the bright side of things and she sustained them through entering contests back in the day when contests required skills. She wrote jingles for various products and she won big more then once which literally saved her family from living on the streets. You'd think this would be a total downer but the film really captures the indomitable spirit of this woman and her children adored her and it seems like they turned out okay, despite the very realistic depictions of Dad's alcoholic fits of rage and depression. Moore and Harrelson have some very good moments together. I don't think this was ever released in the theaters or if it was it was a small blip on the radar. It's an odd little film but very worthwhile. ***3 Handbags

posted by David on 9/22/2006 06:57:00 PM | Link |
9/21/2006
My Way of Life- Why we love Mike Miller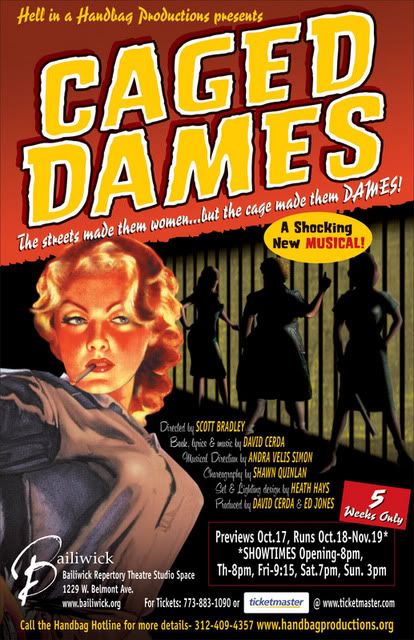 And Rick Aguilar...

posted by David on 9/21/2006 05:18:00 PM | Link |

My Way of Life- Moby and...DEBBIE!

I'm super amped about La Deborah Harry working with Moby, and you should be too!

posted by David on 9/21/2006 07:13:00 AM | Link |

Jesus Camp : Kids Worshipping to a George Bush Picture

Something new to threaten your kids with...

posted by David on 9/21/2006 07:08:00 AM | Link |
9/19/2006
My Way of Life
Mother of the year.
posted by David on 9/19/2006 08:08:00 PM | Link |
My Way of Life- Mickey Hargitay RIP
posted by David on 9/19/2006 03:06:00 PM | Link |
9/18/2006
My Way of Life
My, my, my, things have been rather hectic and I'm afraid I don't have anything terribly clever for you. We are deep in Caged Dames rehearsal. Tonight we have choreography with Shawn Quinlan, the new Caged Dames choreographer so I have a chance to humiliate myself all over again. I went the Flesh Hungry Dog rock show at JackHammer Friday and The Countdown rocked me to the bone. I heard another cool band that described themselves as an evil Devo, called Mandroid. I even bought their CD. I gave Aaron Smith a ride home as he was a bit tipsy...

Ed Jones reports that the opening of late night Band Geeks The Musical went well at the the Theatre Building Chicago. I wonder if the critics were told it's okay to review the show... Mike Miller and I saw Hollywoodland last week. Very solid performances (even Ben Affleck), but ultimately not satisfying. Two Handbags. Merrie Greenfield got yet another rave for The Last Two Minutes of the Complete Works of Henrik Ibsen now at Northlight, Marika Mashburn got a rave in for her role in The House Theatre's Hatfield and McCoys, and I saw my Nana, and nieces and nephews yesterday. My mother was at my Nana's house and gave me an icy reception for not calling her. Some people just can't take a hint.

posted by David on 9/18/2006 10:02:00 PM | Link |
9/14/2006
My Way of Life- Join the Hell in a Handbag Board
posted by David on 9/14/2006 04:34:00 PM | Link |
My Way of Life- The Talented Mr. Miller
posted by David on 9/14/2006 04:01:00 PM | Link |
9/13/2006
My Way of Life
It's amazing what a difference a day can make. I was never near the point of a nervous breakdown yesterday. Actually, I was rather pleased with myself for not going there. Producing is hard. But, so is anything worthwhile, so I suppose I should be grateful I've got the 'problems' I do. There was a time that my biggest problem was scraping together bus fare to borrow money from a friend. Mother could tell you some frightening stories, kiddies...

Rehearsals are getting interesting because the cast is starting to develop their characters and everybody seems to be having fun with them. Afterwards Ed Jones and I stopped at T's for a bite to eat and ran into our favorite sexy waiterdudefriend, Tim. I don't wanna say anything but Ed ordered the

all you can eat

battered fish and almost bit Tim's fingers off when Tim tried to set Ed's beer in front of him. I think it was his fifth beer too... Okay, maybe it was his 1st, I forget...



posted by David on 9/13/2006 08:46:00 PM | Link |
9/12/2006
My Way of Life
Blog for today.
posted by David on 9/12/2006 09:31:00 PM | Link |
9/11/2006
My Way of Life- ADS For Sale
posted by David on 9/11/2006 05:47:00 PM | Link |
9/08/2006
My Way of Life- Singing
So I
did
blog yesterday but there was a problem uploading and it crashed and I said, 'F8ck it' and went on with my office life. Rehearsals...We have been singing with the wonderful Miss Andra, our music director, and blocking scenes with Scott. Tina Haglund, or Big Lorraine as she's known in the show was near death Wednesday and a no show yesterday so I got to stand in her for her. I loved being Big Lorraine, the Queen Bee of Cell Block H (The Kodeski-Herrera's know this is a nod to our fave
Australian prison soap opera
, as is the name of one of the prisoners, Frankie) . I wasn't in any of the songs they sang yesterday so I watched. I like to watch. Mike Miller is in the final stages of the poster and it looks really cool. The press photos are being work on as we speak (or is it as I type or as you read this?). They look really cool. Me? I look
sort of cool
.
posted by David on 9/08/2006 05:33:00 PM | Link |
9/07/2006
Flickr
This is a test post from
, a fancy photo sharing thing.

posted by David on 9/07/2006 05:32:00 PM | Link |
9/06/2006
My Way of Life- Family Ties
Did you know that crazy Anne Heche's even crazier mother, Nancy Heche, is part of the speaker circuit for Love Won Out, an ex-gay organization? Now, why would an ex-gay organization hire somebody to inspire people interested in this considering her own family is such a freaking mess?
Nancy: Yes, my husband was a closet homosexual but he's not gay anymore since he died of AIDS. My daughter used to be gay until she realized she was just a crazy publicity whore. Join us!

posted by David on 9/06/2006 09:44:00 PM | Link |
My Way of Life- A Beautiful Flower
Tuesday finds me finally refreshed, like the above flower, although the day started off with
me oversleeping
. Christopher left early, so he had to move my car. He moved it to the street. The side of the street they are cleaning today. Since I overslept you can bet you sweet ass the lovely
Chicago police department gave me a 50.00 ticket at 9:01AM
. If I holler at Chris for parking my car on wrong side of the street then I admit I overslept. I'll just continue to systematically drive him insane I suppose. I was wiped out yesterday.
Caged Dames
is keeping me very busy. That, combined
my busy workout
ritual, allergies,
social calendar
and our little Labor Day BBQ I was wiped out. The BBQ went exceedingly well and I was even glad that Chris decided to clean ridiculously obscure parts of the house that nobody would ever know about. He goes from one extreme to another. You never know if getting ready for guest means a simple vacuuming or cleaning the holes in the salt and pepper shakers, honestly! My husband is a brilliant businessman but
isn't very good at the grill
so I took care of that and the party was broken off into various portions of the apartment with the twenty something guests milling in and out. All the Chicago
entertainment power players
were there so hopefully some
important deals
were struck.
Rehearsal last night found me standing in for Big Lorainne, the Queen Bee of Cellblock H at the Calumet City Women's Penitentiary. I have to admit, although tired, I had fun being Tina Haglund for the evening. Schnitzy, are German lackey prison guard, Derek Czaplweski is in New York City, so Angela Barker, our lovely stage manager stood in for him/her. When I got home I sent Michael Miller more publicity photos and I guess I should start memorizing my lines, shouldn't I?
posted by David on 9/06/2006 04:40:00 PM | Link |
9/04/2006
My Way of Life
Holy Crap!
posted by David on 9/04/2006 07:20:00 AM | Link |
9/02/2006
My Way of Life-And now a word from our sponsor

Thanks to BC Kalz for sending me this. I love this...

posted by David on 9/02/2006 08:03:00 AM | Link |
9/01/2006
My Way of Life
CLICKCLICKFLASHFLASH! We did publicity shots for Caged Dames yesterday at the studio if the fabulous Rick Aguilar, and they are going to look fabulous. Tina Haglund, Brigitte Ditmars and Ed Jones pulled out all of the stops, but Tina Haglund is true a dame at heart and it showed when she walked into the studio with her penciled in eyebrows and pin curled do.

posted by David on 9/01/2006 08:28:00 PM | Link |