FUN LINKS
Chicago Theater
and also in Los Angeles...
and also in Baltimore...
Blogs We Love
People We Love
POSEIDON!
Handblog Archives
And also...
David interviews Margaret Cho
read the handblog...
11/30/2006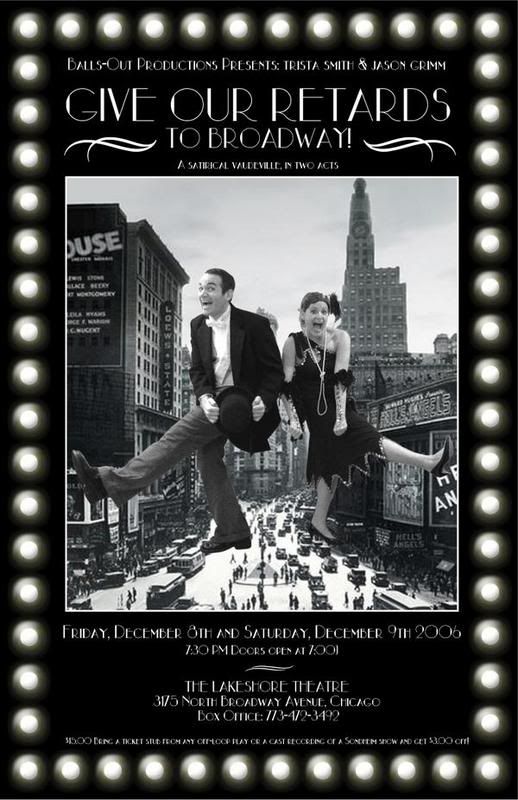 What's our little Trista up to now? You have GOT to see this show. Trista is one of the funniest women I know and it's sure to be good dirty fun. Jason's a cutie too and I hear he's NUDE in the show! I'm going Friday. It's only two days next Friday and Saturday!

posted by David on 11/30/2006 10:24:00 PM | Link |
My Way of Life


Having yet another Diva fit in rehearsal...
Oy Vey, mother is a bit tired! It's been non-stop since I returned from my sojourn to sunny overcrowded Southern California. Our flight was delayed 3 hours and once we got there the thing I hate most about sunny California...TRAFFIC, was a pain in the ass. There are too many people there and it's getting more and more crowded. If only somebody would tell 3/4 of the people that go there the truth about their so called talent then perhaps it wouldn't be so crowded. Who am I kidding? You don't need talent to make it there...
Palm Springs- Was great. It wasn't big gay nudist Palm Springs, it was hanging with the family Palm Springs. Hanging around Chris's family is fun because the more I hang out with them the better I understand him and all of his quirky little traits and weirdisms. They are all generous to a fault and we just laid around the pool and ate and shopped for 4 days.
Rudolph in LA- How fun to see the west coast premiere of Rudolph the Red-Hosed Reindeer. TheSpyAnts are the same people that did the critically acclaimed production of The Birds so when they wanted to do Rudolph I handed it over to them. The cast was great. A really talented group of people. Eric, Lori, Brett, Jerry, Marina and Etienne. I had absolutely no contact with the director so needless to say I was a bit surprised by some of the 'changes' made to the show. If I were directing I would have asked the author. He was a lovely gentleman but I can't fudge here...I didn't understand the reason for the many of the changes and I think it effected the quality of the show. Meaning it's not bad, it just could have been more. There are some really inspired moments however and I know TheSpyAnts worked very hard, and the elves are soooo hot and funny, so I still recommend it only to see the neighbor ladies during the Ramones inspired Next Tuesday.
posted by David on 11/30/2006 04:43:00 PM | Link |
My Way of Life- Ho Ho Ho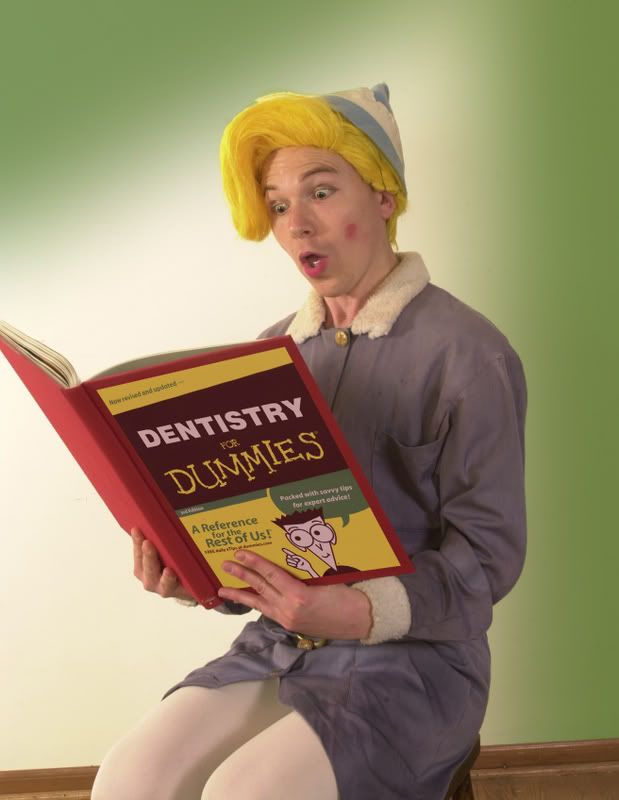 It's that time of the year again...


HELL IN A HANDBAG PRODUCTIONS PRESENTS
RUDOLPH, THE RED-HOSED REINDEER
Book and Lyrics by David Cerda
Music by David Cerda and Scott Lamberty
Directed Tim Howard

Where: The Bailiwick Repertory Theatre, 1229 W. Belmont
Opens: Friday, December 1st at 10:00 PM
Runs: Fridays at 10pm, Saturdays at 7PM
Closes: Saturday, December 30 at 7PM
Admission: $15.00

Reservations
(773) 883-1090 or www.ticketmaster.com

Chicago's favorite cross-dressing reindeer is back and he's more fabulous then ever!!! Hell in a Handbag Productions is proud to remount David Cerda's parody of the classic children's television special Rudolph the Red-Nosed Reindeer. Rudolph, The Red-Hosed Reindeer (Back for its EIGHTH holiday season) is a story very near and dear to my heart. I immediately related to the original story as a child, as did any kid who felt 'different', " says Cerda.

Pull up an iceberg and join Rudolph (Richard Banden) and his misfit friends – Herbie (Dan Hickey), the 'not gay enough' elf who wants to be a dentist and Yukon Cornelia (Lori Lee), the butch prospector with a deep, dark secret - as they search for happiness... and attempt to outrun the horrifyingly tacky Abominable Drag Beast (Terry McCarthy). Other Hell In A Handbag ensemble members featured in Rudolph, The Red-Hosed Reindeer include David Cerda, Ed Jones, Michael Miller, and Chad McLaughlin. Additional cast members include Linda Andrews, Patricia Austin, Rachel Boller, Gino Generelli, Steve Lehman, Robyn Senchak and Aaron Smith. Ensemble member Tim Howard (a former Elf himself) is on board as director for this year's red-hosed romp.

Tradition has it that Rudolph author and Hell In A Handbag Artistic Director David Cerda always has fun new treats in his bag for his favorite show, and this year's Rudolph, The Red-Hosed Reindeer is no exception. It doesn't matter if you've been naughty or nice this year... you definitely want to catch the show that Chris Jones (Chicago Tribune) dubbed "an ideal holiday escape for anyone who detests the commercialism of traditional Christmas shows" and that Jack Helbig (Chicago Reader) congratulates as "a copycat crime turned into a work of art."

And remember..."Being Normal Isn't Normal At All!"

Digital press photos are available at our website: www.handbagproductions.org

posted by David on 11/30/2006 03:42:00 PM | Link |
11/28/2006
My Way of Life- I'm alive
Yes, I'm alive. I was in Palm Springs and Los Angeles for the Thanksgiving weekend. It was very relaxing. More later. I saw the west coast premiere of Rudolph the Red-Hosed Reindeer. The cast was great. More later. We're in rehearsals for Chicago Rudolph. More later. I'm way behind at work.

posted by David on 11/28/2006 11:32:00 PM | Link |
11/20/2006
My Way of Life-Turducken
A turkey stuffed with a duck stuffed with a chicken. This is my definition of obscene.

posted by David on 11/20/2006 04:17:00 PM | Link |
11/15/2006
My Way of Life- Rudolph's Hollywood Debut...



My goodness, our little cross-dressing superstar Rudolph has hit the west coast! Catch the west coast premiere of Rudolph the Red-Hosed Reindeer by TheSpyAnts, the same people who did The Birds to great critical acclaim. If you're in the area why don't you check out Rudolph, Santa and the abominable Drag Beast! I'll be there to join the fun next weekend.

RUDOLPH THE RED-HOSED REINDEER

Running November 24th - December 17th Preview November 24th, tickets $10 Opening night benefit for GLAAD November 25th, tickets $30 (includes drinks and appetizers) Thursday, Friday and Saturday at 8pm, Sunday at 7pm The Elephant Theatre 6322 Santa Monica Blvd. Hollywood, 90038 (E. of Highland Ave. / W. of Vine St) Tickets $20. Reservations (323) 860-8786
posted by David on 11/15/2006 08:02:00 PM | Link |
11/14/2006
My Way of Life


My goodness, things are certainly rather busy and something new is happening every single day. Many wonderful things.
Sadly, Steve Hickson, a Handbag co-founder, ensemble member, Board Member and Managing Director has decided to move on and pursue other ventures. Things change- and I wish the talented Mr. Hickson all the luck in the world and will keep you posted on his activities.

I can't began to tell you how pleased I am with the general reaction to Caged Dames. It's very gratifying to read the e-mails I've received regarding the show. Needless to say without Scott Bradley, Ed Jones and our great cast and crew this would still be buried inside my laptop. This is our final week and the reservations are piling up, so call 773-883-1090 to get your tix.
posted by David on 11/14/2006 05:11:00 PM | Link |
11/13/2006
My Way of Life- Final week...






The theater was overflowing with butts all week. Yes, we had massive crowds for Caged Dames this week. Now I wish we were running for the normal six weeks but fear not, Rudolph will open Dec. 30. You should call 773-883-1090 to reserve tickets for the final week. We close Sunday, Nov. 19. I also recommend getting there early if you drive as parking is a bitch. You can also use the Theatre Building Chicago valet down the block.

posted by David on 11/13/2006 09:51:00 PM | Link |
11/12/2006
My Way of Life- Free Concert!
If you've already seen Caged Dames please consider this. It's FREE and Lon, a Handbag ensemble member, is extraordinary. By the way, I highly recommend reservations for the final week of Caged Dames. They are filling up fast and yesterday we turned people away. GET THERE EARLY TO FIND PARKING or use the valet at the Theatre Bulding Chicago 2 doors down for 7 bucks.

Lakeside Clarinet Choir under the direction of composer/conductor Leo Schwartz will peform with countertenor Lon Ellenberger on Sunday, November 12 at 2:00pm as part of the North Shore Second Sunday Series. Mr. Schwartz has transcribed serveral works by Bach, Brahms, Barber and Handel.

Lon will sing an set of English songs of gratitude and wonder, and three Handel Italian airs of shimmering beauty.

Concert is free and open to the public.

North Shore Baptist Church
5244 North Lakewood Ave. (1 block west of Broadway at Berwyn)
Chicago, IL
www.lakesidepride.org
www.secondsundayseries.org

posted by David on 11/12/2006 06:03:00 PM | Link |
11/09/2006
My Way of Life- Avoir!







Well he's finally gone. I thought this day might come but I wasn't sure. It happened yesterday. It was sudden but not unexpected. It was long overdue and now we can move on.

posted by David on 11/09/2006 08:50:00 PM | Link |



I got this from Jere's blog. Actually, I'm surprised I did THIS well...

posted by David on 11/09/2006 12:01:00 AM | Link |
11/08/2006
My Way of Life- Warden Hope HOPES that you'll come to see Caged Dames
posted by David on 11/08/2006 07:56:00 PM | Link |
11/07/2006
My Way of Life


What war? What election? Britney and KFed are divorcing...
posted by David on 11/07/2006 11:45:00 PM | Link |
My Way of Life- BLAH BLAH BLAH
See me blather on about Caged Dames to the Windy City Queercast. I may have to come out of the closet soon...

posted by David on 11/07/2006 06:12:00 PM | Link |
11/04/2006
My Way of Life
If you don't come and see Caged Dames I'll have a nervous breakdown.



posted by David on 11/04/2006 11:52:00 PM | Link |
11/03/2006
My Way of Life- You'll LOVE it!
Last night started our third week of Caged Dames and given the overwhelmingly positive reviews (#1 Show to see again, in TimeOut Chicago), I was expecting an overflow of eager audience members. This was not the case. We had a respectable 25 attending last night and although the pacing was there, I personally felt a bit wonky. The wonkiness came to a peak when Ed Jones blanked in the middle of his big number, Have an Oyster. According to Ms. Ditmars he just got this look of terror in his face. This is the look all actors get when they realize they have no idea what their next line is. So Ed just blurted out 'YOU'LL LOVE IT!', to the amazement of Brigitte, Derek and our Music Director Andra Velis Simon. The scene was going really well while I watched it and as I entered the dressing room I was smiling at Cheryl Snodgress (Bigger Lorraine) when we heard the new line. The look of horror on Cheryl's face was rather priceless. I was a little extra nervous because my secret boyfriend, Eric Lindahl was there. Okay, I guess it's not a secret if I tell people that he's my secret boyfriend, including his boyfriend. I certainly don't want to be one of those leering older men who tries to 'cleverly' sneak glances at attractive men fooling nobody but themselves, so I try to be upfront about it to make all concerned less uncomfortable. Eric's boyfriend is a terrific sport. Come see us at the Bailiwick this weekend!
posted by David on 11/03/2006 05:33:00 PM | Link |
11/01/2006
My Way of Life
posted by David on 11/01/2006 08:01:00 PM | Link |
My Way of Life
Holy Crap...

My name is talking Carol...and I want to KILL you...
posted by David on 11/01/2006 07:21:00 PM | Link |