FUN LINKS
Chicago Theater
and also in Los Angeles...
and also in Baltimore...
Blogs We Love
People We Love
POSEIDON!
Handblog Archives
And also...
David interviews Margaret Cho
read the handblog...
4/30/2007
My Way of Life- Mystery Terrorist date
Okay, so if you had to date one of these convicted terrorists, who would it be? I'm liking the one on the far right...




Mrs. Jawad Akbar....*sigh*

posted by David on 4/30/2007 09:54:00 PM | Link |
My Way of Life
Is Boy George a total idiot? Is he trying to live up to the 'Boy' portion of his name or is it just a problem with UK pop stars named George?

posted by David on 4/30/2007 06:03:00 PM | Link |
My Way of Life
As Joan once told Tina and

Mommie

Dearest, I've been thoughtless and careless. Between the benefit and auditions for the Summer Camp series I have been busy and not very attentive BLOG-wise. The benefit spawned The

Joans

. I had thought aboutstarting the

Joans

about two years ago. Taylor and Aaron and I had talked about it back then. Aaron wrote Mad At The Dirt then as well, so to finally follow through with The

Joans

was very gratifying and really fun. We got a gig already. We're playing at the Flesh Hungry Dog Rock show. A mini set. A very mini set. We only have 3 songs, so...

But we're working on more. Come see us May 4 around 10pm at Jackhammer!

posted by David on 4/30/2007 05:36:00 AM | Link |
4/28/2007
My Way of Life
I don't where Ed Jones finds this crazy sh*t...



posted by David on 4/28/2007 11:59:00 PM | Link |
4/27/2007
My Way of Life- Lets go camping!
posted by David on 4/27/2007 05:19:00 PM | Link |
4/26/2007
My Way of Life


Wow! Our benefit was a smashing success. Seriously, this isn't some 'the glass is half full' press spin. We were filled to to gills with well over 100 people. People who said they were coming aactually showed up! All loving, laughing, drinking and not so much eating...but they absolutely loved the show. Kudos to the ensemble for giving it their all in an assortment of complex dramatic roles: Mike and Linda Rogo, Nomi from Showgirls, Joan Crawford and the doomed Jennifer North. BC Kalz in a Vegas showgirl outfit sans makeup. Priceless. He was STILL pretty without the makeup.

Miss Andra Velis Simon was wonderful on the piano, Jodi was indispensable, Hugh, Victoria and Chris had a great silent auction and our raffle whores, Tina and Chad sold way above their quota. I also was able to live out my rock star dreams in The Joans. Myself and Jennifer were Joan Crawford. Ed Jones was Carol Ann and Taylor, Aaron and Larry provided the sounds. It was really fun but I was as nervous as hell. It went over pretty damn well. I think we raised oodles of dough. Chris and I can now stay in a four star hotel in Puerto Vallarta and swim with the the dolphins! Benefit gratitude list coming shortly.

posted by David on 4/26/2007 06:53:00 PM | Link |
4/23/2007
My Way of Life- Benefit tomorrow!
I'm home so I can take car of things for the benefit, a Handbag Happening tomorrow. I'm not running around like mad, and to be frank, having your husband home during the day kind of sucks the pleasure out of a day off. Especially when you're married to Nancy Nitpick, but it does inspire me to get my shit done. I dug through the wigs and costumes and now I have to go to the storage space, which is something I'm not looking forward to.

We are extending the $25 industry rates and it looks like its going to be a really great crowd. E-mail info@handbagproductions.org to get your name in the industry list or just show up with your headshot or resume. You DO know where it is, right?

posted by David on 4/23/2007 06:34:00 PM | Link |
4/19/2007
My Way of Life
I thought you might want to meet somone from Northwest Indiana, the area I was born and raised in. Meet Michael Bessigano.

posted by David on 4/19/2007 09:50:00 PM | Link |
My Way of Life
Hey! You got chocolate in my peanut butter!

posted by David on 4/19/2007 09:32:00 PM | Link |
4/18/2007
My Way of Life
I've been reading about the victims of the bullshit that happened a Virginia Tech. You should too. Henry Lee sounds amazing.

posted by David on 4/18/2007 10:27:00 PM | Link |
My Way of Life- RIP Kitty Carlisle
Kitty Carlise has spontaneously turned into dust. She was 96. See her on To Tell the Truth.

posted by David on 4/18/2007 08:23:00 PM | Link |
4/17/2007
My Way of Life


Our third rehearsal for A Handbag Happening went really well last night. I think we had everybody there which is a Handbag first. All the oldies and newbies singing and dancing and joking. The show is looking pretty good. Mind you with only 5 rehearsals it will be rough around the edges, but fun. I think The Spot stage holds about 6 people. It will be interesting to see how a dance number with 20 people looks on the stage. Ed's new Nonnie song got a great response from the ensemble. One never knows when you write something new. Valley of the Dolls as told by Gilbert & Sullivan went pretty smoothly too.

If you haven't gotten your tickets what are you waiting for???? Buy them NOW online. Do I have to start printing a list of names online like the newspapers do with people who were arrested for solicitation? David? Edwardo? Dirk? You wouln't want that, would you?

My new project? Why, you're looking at it. I finally upgraded my Flickr account and have decided to archive all of my favorite film stills for the world to see. I think it's essential to capture these images. My friends John C. and David K. have inspired to release my hidden archive geek. I hope the movie studios agree with me. I've started with The Fat Spy, The Hidden and Showgirls. More on them later.... I've started uploading Humoresque. The lighting is stunning in this film and I think Joan looks her most beautiful here. This was before she got really severe looking. Not that I don't love all of her looks...

posted by David on 4/17/2007 04:15:00 PM | Link |
4/16/2007
My Way of Life
Just a clarification. I do know how to spell-most of the time. Why, I was the 6th grade runner-up in the Hammond Indiana spelling bee of 1972 and that title wasn't handed to me on a silver platter!I do know that concept is spelled the way I just typed it. Blogger isn't allowing me to edit the last post so I don't know what's going on, and I usually prefer it that way...

posted by David on 4/16/2007 06:43:00 PM | Link |
My Way of Life
We are rehearsing for a Handbag Happening. Actually we've had two rehearsals so far. I wish it could be a little more but thats always the case. There are 3 more scheduled and we have to to Valley of the Dolls by Gilbert & Sullivan and Showgirls in 5 (maybe 10) minutes. Each of these will have one rehearsal...ugh. I mean, yay! Friday night, myself, Aaron Smith, Taylor Ross, Jennifer Connolly, Ed Jones and a guy named Larry had our second rehearsal fo rthe Joan Crawford consept rock band, The Joans, and it started to come together into something a bit exciting.

posted by David on 4/16/2007 05:29:00 AM | Link |
4/12/2007
My Way of Life- Hungry?
posted by David on 4/12/2007 11:00:00 PM | Link |
My Way of Life- Cardinal George vs. Carmen Electra



I could watch Cardinal George and Carmen Electra fall over and over and over.

posted by David on 4/12/2007 03:34:00 PM | Link |
4/11/2007
My Way of Life



We had our first benefit rehearsal yesterday and I was hungry, tired and cranky. I really haven't had a lot of time to do all that needs to be done and I can be moody.

posted by David on 4/11/2007 08:16:00 PM | Link |
4/10/2007
My Way of Life- Back to the Future




I won tickets to see Lindsey Buckingham at the House of Blues so I took a nap after work and met Brian (after I begged him to go) . Lindsey and Fleetwood Mac were all I listened to during most of high school. Fleetwood Mac was BB (Before Blondie). Before any of that crazy music we would call 'new wave'. My friends, Rick, John and Chuck would sit and listen to Fleetwood Mac, over, and over and over. We would make up new lyrics and analyze each song. Since Rick and I were Feature Editors of the high school newspaper we made up an award just so we could send it to Fleetwood Mac. We called them the 'Golden Cup' awards and spray painted an athletic cup gold and attached it to a plaque with stick on letters. Judy Wong, the woman at the Fleetwood Mac offices who we called 100 times a day assured us that she had indeed received the trophys and that yes, the band saw them. Too know that Stevie Nicks may have actually touched something that I had touched was thrilling.
When I got too cool for California rock I more or less ditched the big Mac and like Peter, denied I was a disciple. Cool new wavers did NOT listen to Stevie Nicks and all of that bloated 70's Mac excess with its 10 minute guitar solos and feathered hair.
So it was with trepidation that I attended the Lindsey Buckingham show. I needn't worry as Lindsey was fantastic. Sure, his song explanations were a bit winded and yes, his 'I'm So Afraid' was way too slow and too long (that was was his one 70's guitar virtuoso indulgence), but he reminded me why I like Fleetwood Mac back then. His honestly and lack of pretension was amazing and the entire room was his. I'm not sure why there were so many old people there. Surely they were not my age... Balding guys with pot bellys- some wearing their Rumors t-shirts. Women with child bearing hips that sported modified 70's cuts wearing their 'nice' jeans. Our favorite was the short woman we had dubbed 'Rock Mom'. She, like a lot of the woman there bopped up and down to Go Your Own Way and Second Hand News just like Aunt Karen at the family wedding. There were many wedding dancers scattered throughout the audience. When he played Never Going Back Again I suddenly was transported back to Alpine Valley to 1977 and I thought here I am, 30 years later. I was amazed.
posted by David on 4/10/2007 04:09:00 PM | Link |
4/09/2007
My Way of Life- David Dancerella
This Easter weekend was a whirlwind of parties and when you have 7 nieces and nephews a birthday is just around the corner. Uncle Chris chose the gifts and he decided that the Bella Dancerella Pop Star Studio DVD would be perfect for the oldest niece (6), Jillian. Too bad Christopher didn't read the Amazon feedback for this product because Uncle Christopher was disappointed that there weren't more detailed dancing instructions- just like Christi Morents of Effingham, IL whose daughter became 'frustrated' and started to cry. Or what about Kelly Solovey of Hershey, PA whose daughter broke the headset trying to get it over her head. Just how big is her her daughters head? I'm wondering what they expected for 20 bucks...

There were tears with my niece but it wasn't because she was frustrated by the instructions. Sure that's what she said, but Uncle David knew it was because she didn't want to share the plastic mat of stardom with her 3 younger sisters. She claimed it was 'too hard' and that she was 'shy'. I grabbed her by the shoulders and looked her directly in the eye and told her LIFE was hard and that only losers are 'too shy'. I then made a deal with her. I would have her sisters sit and watch her dance then, and only then they could dance on the edge of the mat of stardom as her back-up dancers, myself included. We danced for 45 minutes.

posted by David on 4/09/2007 05:28:00 PM | Link |
4/06/2007
My Way of Life


A song from Elvira-Mistress of the Dark, a very underrated film. Edie McClurg is hilarious in this as Chastity Pariah, the woman determined to drive Elvira out of town.
posted by David on 4/06/2007 05:08:00 PM | Link |
4/05/2007
My Way of Life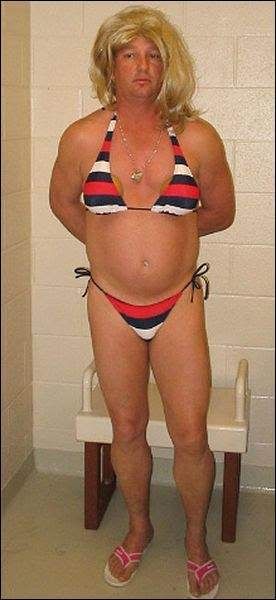 Can't a fellow enjoy a nice day in the park in his bikini without being harrassed? Of course I will be inviting this man to be in our next show. Ed Jones, look out...
Thanks to Nick for this special news alert.

posted by David on 4/05/2007 04:22:00 PM | Link |
4/03/2007
My Way of Life- Valley of the Dolls 5, Maybe 10 Minutes
I'm Helen Lawson, and I'm yellin' and a bossin'
Tell your boss to tie a can to the tail of that broad
Or I'm outta' here- I swear to God...



My names Anne Wells,
I've come to New York City
For fortune and fame, and a man
My odds are good, I'm single and white, and I'm pretty
And I can suck a melon through a coffee can



So last night I finished Valley of the Dolls for the benefit. It started as Valley of the Dolls in 5 Minutes, but I think it will more like 10, and it has a decidely Gilbert & Sullivan twist to it. I really had a lot of fun doing it. I watched scenes from the DVD that Brigitte got me for my BIRFDAY last year with a Roxio Media thingee I got but only used for manipulation pictures. To my surpise when I opend the DVD feature it had a 'capture the image' feature. I could do this all day with certain films!



posted by David on 4/03/2007 03:08:00 PM | Link |
4/02/2007
My Way of Life
An now a word from...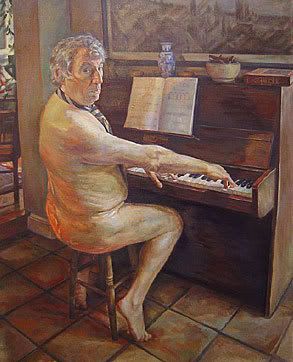 posted by David on 4/02/2007 08:35:00 PM | Link |