FUN LINKS
Chicago Theater
and also in Los Angeles...
and also in Baltimore...
Blogs We Love
People We Love
POSEIDON!
Handblog Archives
And also...
David interviews Margaret Cho
read the handblog...
10/31/2004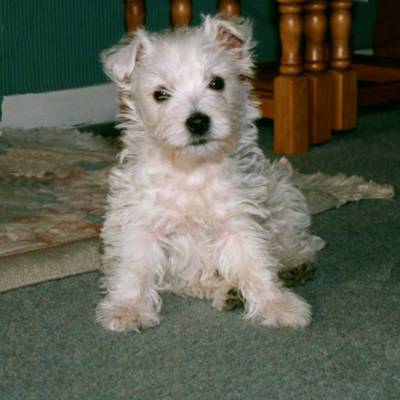 Come to our benefit tomorrow or I'll rip this puppies head off. Thank you.

posted by David on 10/31/2004 08:44:00 AM | Link |
10/29/2004
My Way of Life
There's lots of running around the city in my future in preparation our BIG BENEFIT so forgive my brief-nicity.

Last night Ed Jones and I saw Fausto Ferno's Feast of Fools show and we enjoyed the hell out of it. It was weird to watch because we had performed in the exact same sketch a few months ago but it was even weirder seeing a Ms. Renata Schloss a shorter, older woman portraying ME. Her name was David Cerda in the show and every time they said the name I think my ego got a little sick and twisted boost. She was very funny and they all did a great job. BC Kalz as fat Anna Nicole was inspiring as well. I particularly enjoyed the hell out of Harvey Finklestein's Christian House of Horrors which bordered on brilliant. Harvey Finklestein is the genius behind Sock Puppet Show Girls which blew the New York International Fringe Festival on its ass this year.


posted by David on 10/29/2004 08:15:00 PM | Link |
10/28/2004
My Way of Life
England SWINGS

WITH

SEX-CRAZED NEIGHBORS

and

SPIT-ROAST ATTACKING POLICE OFFICERS!


posted by David on 10/28/2004 09:24:00 PM | Link |
My Way of Life
Tonight you can see Handbag's own BC Kalz as Anna Nicole Smith in Fausto Fernos' Feast of Fools show. I'm usually a part of this but had to drop out because of the workshop for

SCARRIE, The Musical

so it will be interesting to attend tonight and see my stand-in. I'll be at Schuba's , 3159 Southport on the corner of Belmont and Southport. It's cheap, and besides the amazing BC Kalz there's Silky Jumbo, everybody's favorite filth puppet, Harvey Finklestein and hairdresser/Belinda Carlisle fanatic, Anthony Seranilla.


posted by David on 10/28/2004 05:54:00 PM | Link |

Think You're Going to Heaven? Let's just see about that...,

posted by David on 10/28/2004 04:43:00 AM | Link |
10/27/2004
My Way of Life
Rehearsal went well last night. We had Richard, the guitarist with the magic clarinet, Taylor on bass, and of course our little Peter. We had a super good time yesterday playing with some of the songs, making a some cuts, and adding, what I thought was a very funny line for Carrie White. I always feel a little dorky laughing at my own stuff, but it's really the way the actors deliver the material. That said, there's nothing worse then a playwright or director howling at their own show in the audience. That's why I usually like to stay onstage. The 'kids' are really going for it and I think they're having a good time. I believe we are more then prepared for Sunday's benefit performance.

Some highlights to look forward to: Dreamy Ryan Pfeiffer's Tommy Ross. Tempe Thomas's (Mean Girl, Debbie) wacky asides. Anna Mitchum's (baseball hat wearing Mean Girl, Norma) evil laugh - I have a feeling she's done the evil laugh thing before. Brannen Daugherty's (Carrie White) menstruation panic facial expressions. Tim Howard's first line. Brigitte Ditmar's (Miss Collins) and Clarissa Gregg's (Chris Hargenson) 'American Idol' battle. Ed Jones' as Margaret White saying ,'Yes!' Steve Hickson (Principal Morton), Derek Czaplewski (Mr. Shiplace) and Mike Miller (Miss Finch) being electrocuted. David Cerda's (Narrator) disjointed narration. I guess I'm excited because this gives us a chance to 'rock out', and I love the whole process of developing a new show. Well in this case a remodeled show.

This just in! Special industry benefit tickets for

20 bucks

! So let's see all of you starving artists Sunday. And remember, I will notice who attends and who doesn't. Come for Steve Hickson. He has so little...,


posted by David on 10/27/2004 05:36:00 PM | Link |
10/26/2004
My Way of Life
Let's see, what's in the news? Well apparently the disappearance of 377 tons of explosives in Iraq isn't as important as the fact that Ashlee (I hate that spelling) Simpson was busted for lip-syncing (using a back up track) on Saturday Night Live.

That is, if you judge the world by what I overhear in my little daytime cubicle universe.

I would imagine the people running the Bush campaign may have had something to do with Ms. Simpson's technical glitch once they knew the New York Times was about to leak the story. I'm wondering if true music aficionados in the 60's looked down on people like the Lesley Gore, The Supremes, The Angels or any one of the Spector-ish type girl groups that seemed to be a manufactured product of some big record company assembly-line. I can't help but feel old when I hear Ashlee, Jessica or Christina, and think how truly terrible they are. It wouldn't be so bad if they had actually worked, meaning if they wrote music, paid dues, had a clear artistic vision, like Joni Mitchell (yeah, Big Yellow Taxi...,), Joan Jett, or even Carly Simon (who I don't even particularly like)..., Then again, I loved The Partridge Family and The Archies growing up, 2 totally fictitious bands- but at least you knew they were fake.

So who's to blame for this sh*t? I'm thinking Madonna, but that's too easy. How about the record companies? Partially, but they only manufacture what the public wants. MTV? Yes, they help shape tastes and trends. Is anybody out there old enough to remember how cool MTV was when it first came out? Tempting us, like a serpent, only to lead us into a valley of mass 'alternative' conformity. Don't feel bad, because I too fell for it.
Since I love to place blame, I choose US. People are stupid and they're just getting stupiderer by the minute. Take a look in the mirror, America. George W. Bush, OJ Simpson, Paris Hilton, 'Yes Dear' is in syndication, Cadillac Escalades..., Look at yourself! Aren't you ashamed?

For shits and giggles, check out Ashlee Simpson's message board on her website.


posted by David on 10/26/2004 07:38:00 PM | Link |
10/25/2004
My Way of Life
Amish hell!


posted by David on 10/25/2004 10:46:00 PM | Link |
My Way of Life
I felt like Shirley Partridge as I sat in a rocking chair Saturday listening, and occasionally singing to the band play the music for

SCARRIE, The Musical

. It was good to finally hear the songs played the way they were meant to be played. No offense to Peter Storms on the piano at all, but imagine hearing 'Dirty Deeds' by AC/DC on the piano. Right. Sunday's rehearsal went well, despite the absence of a keyboard for the first hour, Jackie..., We almost had a full cast. We missed Matt Rudy's wonderful panic stricken death flee he does with our little Cody Cosmic. We lost a cast member last week and we have another one that just comes in when the mood strikes her. Such is the life a NFP theater company.


posted by David on 10/25/2004 09:22:00 PM | Link |
My Way of Life
So I saw 'The Grudge' Friday. I normally would not seen the movie because based on the marketing and the trailer, I thought it would probably attract the type of people I prefer not to associate with, let alone sit with in a darkened theater for two hours. I went because Mike Miller wanted to see it and he usually sees what I want to see. I also went because there was an intriguing review in the Chicago Tribune. Oh, what a burden it is to be right 99.9% of the time. What a shitty movie this was.

Well maybe it wasn't the movie...maybe it was the pack of hyenas that I was forced to sit with for two hours. Loud, obnoxious teenagers and ignorant gangstas and their bitches who went for the express purpose of shouting 'bitch' and 'fag' back at the screen. The movie was annoying, but the crowd was worse. We had the pleasure of sitting directly behind one of those women that has to confirm everything she sees on the screen verbally. Reading the website Sarah Michelle Geller went on out loud, word for word, slowly, like she couldn't understand it if she didn't, and my favorite..., Two Japanese cops found a the jaw of one of the unfortunate victims of the cursed house which prompted the woman in front of us to announce. 'It's a JAW!' It got to the point where the security had to stand in plain view to get people to shut up. I think there should be a special showing for teenagers and people who believe it's okay to talk to during movies. Perhaps they can offer them free Jolly Ranchers or something as an incentive.


posted by David on 10/25/2004 05:53:00 PM | Link |
10/22/2004
My Way of Life
I haven't been in a very Bloggity mood lately. My mood has been rather blah, I think because of my recent sleep troubles but as they say, the show must go on.

I've been catching what I can of the fascinating PBS telecast of Broadway:The American Musical. As you know, I write, or purport to write musicals, but I have never been what one might call a 'musical theater queen'. I think it's because I didn't become interested in the genre until recently (6 years ago), and I had always been a little contemptuous of the art form because of the big gay stereotype associated with it. I didn't want to risk my punk rock credentials singing showtunes back then, but I have to admit the series is highly entertaining and it really shows how Broadway worked back then and how it works now. The show also gave me a new respect for Stephen Sondheim, who follows his vision regardless of the moneymen. I'm not a big fan of everything he does, but he does what HE wants, not caring about the fact if it will make money. Even I have to consider the marketability of a show for Handbag, which can be hit or miss sometimes. It was rather sad seeing how it's nearly impossible to have a Broadway show mounted without multiple producers and MILLIONS of dollars. The Broadway musical dream is all but dead as far as I see it. You have a better chance at being hit by a bus.


posted by David on 10/22/2004 05:16:00 PM | Link |
10/21/2004
My Way of Life
I TOLD YOU SO!
posted by David on 10/21/2004 05:27:00 PM | Link |
10/20/2004
My Way of Life
I spent a rare night at home last night. I was tired. I've been having sleep difficulties and it's effecting my entire life in a crappy way. If one more person tells me I look tired, I'll scream. You know it's bad when my sister with 5 kids thinks I look bad. It's not that I'm not getting enough sleep, it's the quality of sleep I'm getting. Something to do with not breathing regularly while I'm sleeping. I am slowly falling apart.

I watched television yesterday- something I usually don't do between 7-10. I saw the last half hour of The Biggest Loser. I didn't think it was that interesting and I felt a little uncomfortable watching some of it. They use phrases like 'Which one of your team members is 'weighing you down'..., Uh-huh..., Caroline Rhea is the host. I'll bet you thought she couldn't get any worse then Sabrina the Teenage Witch? This show is just, well, kind of pathetic. Teams of overweight contestants compete to see who can lose the most weight (as a team). The team that loses has to eliminate one of the members they think is 'weighing the team down' (their words, not mine). This was the first show so the losing team chose the person that lost the least amount of weight. The way they eliminate the contestant is rather degrading. They all sit around a large 'dinner' table. Each contestant has a serving platter with a silver lid, and each contestant has a restaurant dessert display case with their names in lights on top of it. The contestant then lifts the lid off the serving tray to reveal the name of the person they voted off. No, I'm not kidding, this is a real show. I'm surprised they don't make them all wear pig noses while they do it. I assume nobody is forcing these people to do this. It's all rather sad, because they mix these humiliating phrases and set pieces with all of this teary-eyed bullshit about self worth and gaining a new lease on life. The first contestant eliminated had a follow-up at the end of the showing saying how she had lost an additional 20 pounds (besides the six she had lost that week). She has a new job, new boyfriend and a new lease on life. Yeah.

While I watch this clunker, I kept switching to Bravo's Manhunt, The Search for America's Most Gorgeous Model. It's a big twinkfest, but at least it knows it's a big twinkfest. The guys are a little too young for my liking, no personailty, obnoxious, but hey, I'm not dead, so I will continue to watch it...,just so I can report back to you about it.

Staying in to watch television was definitely worth it when Law and Order SVU came on. That show kicked some serious ass last night. Okay, like, there's this serial killer from the 70's, and it looks like he's re-emerged. He's like the Riddler on Batman, leaving cryptic messages at the scenes of his rather grisly and creative crimes, and Mariska and Christopher have to race to figure out the clue before the deadline or somebody else gets it. Christopher Meloni is so hot when he gets angry. Anyway, it turns out not to be the serial killer from the 70's after all but..., well I shouldn't give it away. Let's just say as usual, it's the mother's fault, brilliantly played by Anne Meara.



posted by David on 10/20/2004 07:49:00 PM | Link |
10/19/2004
My Way of Life
Good day Handbaggers. This is the Handblog. Last night was spent with *GASP* the entire cast of SCARRIE, The Musical. I think this is the first time this has happened since we started- well it probably may have happened a couple of times but who can remember that far back? We blocked Carrie's walk to the 'winner's circle' and the order that she kills people during her rocking death solo. 'Telekinetic Prom'. All involved are enthusiastic and wunnerful, wunnerful. You can see the Amy Irving in Melissa Pond and Brannen Daugherty has embraced the role of Carrie White 1,000%. We're actually having quite a bit of fun and we have two weeks left.

So..., what are you waiting for? Reserve your tickets to our Hell-O-Ween Prom benefit NOW! Click here to download the benefit brochure and get your butt to the resale shop and find a fabulous 70's prom dress or tuxedo to make the evening a night to remember. 'But David, I can't got go to the benefit'....No problem, we'll gladly accept your donation.

'But David, I don't have any money, because I'm a starving artist '... Really? Why don't you donate one of your exquisite pieces to our silent auction? Or get that restaurant or catering company you work at to donate food or liquor? We had one Carrie fan help us with the mailing- we can always use help. Free help is our favorite kind of help. Just ask, we made need you.


posted by David on 10/19/2004 04:03:00 PM | Link |
10/18/2004
My Way of Life
Tracy Repep alert! The Hell in a Handbag drag queen superstar will be appearing Edward Albee's Three Tall Women next spring. Check it out here.


posted by David on 10/18/2004 08:15:00 PM | Link |
My Way of Life
As I type this I am working (at my 9-5 gig) and editing the kajillionth draft of the

SCARRIE, The Musical

script at the same time. I also have to map out Carrie White's prom deathfest. Who dies, when, etc., I hate doing shit like that. My mood today is surprising perky considering I've been overly tired for the past couple of months. Sleeping much too much, and still feeling tired. I don't know if it's allergy medication, my ever present depression or a combination of many things. I'm thinking the latter, but what can one do?

Weekend catchup!- Friday- Team America- very funny, not as good as South Park, but worth the trip to the theater. Boy, Trey Parker and Matt Stone sure obsessed with man on man action. For those of you living under a rock, Team America is a skewering of so many things- mainly the super patriotic boobs that think America is the only country that matters in the world, because, like George W. Bush, they can't name any other ones. The movie is also a sendup of those awful Hollywood blockbuster movies via Jerry Bruckenheimer and Hollywood political active actors, mainly the more outspoken, liberal ones. Alec Baldwin, Sean Penn, Tim Robbins, and Susan Sarandon. However, Parker and Stone enjoy the same privelidges the stars that they're skewering have, so I don't know if they really hate these people or if they're just running out of things to make fun of. I don't really think they're as self-important as Matt and Trey think they think they of are but, really, how many times can you make fun of Charlton Heston?

The only thing I thought was uncalled for was a remark that Susan Sarandon's talent was fading as she aged or something. Now that was just a cheap shot. Maybe I'm a bit sensitive when it comes to agist remarks, living with an older gentleman myself..., Did I mention the entire cast is marionette puppets? 25,000.00 puppets!

Saturday- Kids. Spent the afternoon with my nieces and nephews. Love them, but damn, my sister deserves a medal.

More kids- Chris and I went to David Kodeski's and Edward Thomas Herrera's housewarming party. They have a wonderful new place and it actually belongs to them. The place was crawling with adorable children, and I don't think they belonged to David and Edward.

Late Night Show- One Nation Under Orange Alert. Sketch comedy directed by Mo Collins from MADtv. Steve, Ed, Cate Mannion and I went because Hillary Sanzel, of 'How Whatever Happened to Baby Jane Happened' was in it. Hillary was great. She did the best she could with the material she had...,

Sunday-

SCARRIE

rehearsal. The show is going well and we're doing the best we can. We lost a cast member due to her need to earn a living. The rehearsal space is cramped and it' s difficult o block out scenes, but in all honesty, I wasn't in that frame of mind yesterday. I am today.

Insanity- I cooked an instant dinner and Chris and I watch 'The Snake Pit' yesterday. A 1948 drama about a women who ends up in mental institution and can't remember how she got there. Through flashbacks you see the events that drove her there, stemming from a series of unfortunate events starting with her childhood. If this were the case we'd all be in mental institutions. Olivia DeHavilland starred and was nominated for an Oscar for the role. She's good and there are some pretty compelling scenes but of course, everything turns out okay in the end. Natalie 'Lovey Howell' Schaeffer plays the childhood Olivia's mother. There were some outstanding crazy people in it, but the most shocking thing about the movie was that many of the actors are uncredited in the film! That ain't right.


posted by David on 10/18/2004 03:31:00 PM | Link |
10/15/2004
SCARRIE REHEARSAL SCHEDULE- MONDAY, 10/18
Sorry to use this space for business reasons dear fans, but we needed a a place to post the schedule where everybody could see it.

From the desk of Jackie Anderson

Hey guys,

Monday night, 10/18:

7:00 PM Blocking the Prom Scene ALL BUT ED JONES
7:30 PM Run-thru/Stumble-thru ALL CALL

Same location as Sunday 10/17, Emerald City.


posted by David on 10/15/2004 04:39:00 PM | Link |
10/14/2004
SCARRIE REHEARSAL SCHEDULE- SUNDAY, 10/17
1 to 4 PM
2936 N. Southport, Emerald City Annex, 1st Floor
ALL CALL

Pick up from where you left off last Sunday.



posted by David on 10/14/2004 08:19:00 PM | Link |
10/13/2004
My Way of Life
Sex Duck.
Lesbians run amuck.
Bush sucks.


posted by David on 10/13/2004 10:08:00 PM | Link |
My Way of Life
The hairpin marks on my scalp are just starting to heal from my Joan Crawford, circa 1965 hair 'do', but it was worth it for when Charles Busch met me he immediately said, 'Joan, 1965, 'I Saw What You Did!''. I instantly fell in love. For those of you not keeping up, Steve Hickson and I appeared as Joan and Bette for the Bailiwick Trailblazer awards of which Mr. Charles Busch was the guest of honor. The Trailblazer awards give recognition to people who have made a significant contribution in the GLBT community, and getting recognition is always nice. Yes, there were some rather tedious moments but meeting Mr. Busch was worth it all, especially after he took the time to talk with us at the end of the evening. We are now officially best friends- he may not know that yet so don't mention it to him..., His acceptance speech was the highlight for me because he said what I think every person that creates the type of theater that we create feels- you just get the feeling that nobody takes you seriously. His story of how he came to do what he does was very touching because it came across as very heartfelt and genuine.

Steve and I were on the auction block and sold like some sort of cattle for 300.00 to go to dinner and a Broadway in Chicago play as Bette and Joan. This could have been disastrous but the bidder and eventual winner was a gorgeous blonde Bailiwick board member. Too bad the show we're supposed to see is that awful piece of dreck, Mamma Mia.

Last night we had what refer to as a lick and stick. Get your mind out of the gutter children, this is a mailing for our benefit, the Hell-O-Ween Prom on Oct. 31 at the Theater Building Chicago. Ricky Aguilar was kind enough to let us use his spacious studio to fold, stuff and peel until the wee hours of the evening. So expect your lovely benefit flyer starring Mike Miller's wonderful logo for SCARRIE! The Musical soon!

Kudos to ensemble members Michael Buino and Tina Haglund for their very nice review in the Chicago Sun-Times for Gator Bait, (even though reviews don't matter)...,


posted by David on 10/13/2004 07:27:00 PM | Link |
10/11/2004
My Way of Life
Tonight I will have the honor of portraying Joan Crawford at the Bailiwick Trailblazer Awards honoring playwright/diva Charles Busch. I spent as much time as I could looking for the perfect outfit but in the end it looks like I'm going to be wearing a simple black ensemble with a lovely beaded top from Bill Morey showing off my biceps. I sat in a chair for 90 minutes yesterday while Ludwig created a Joan updo circa 1963, which is quite impressive. Won't I be the talk of the neighborhood..., I would love to see you there tonight, it should be quite fun. The Mercury Theater, 3745 N. Southport, at 7pm. Tickets are 35.00, 25.00 for actors and there is an open bar and food so if you're like most of the actors I know you'll drink up your admission in the first 20 minutes of attendance. God Bless!


posted by David on 10/11/2004 05:32:00 PM | Link |
My Way of Life
This time it's for real...,



I got my new Nancy Sinatra CD yesterday, her third 'comeback' effort in the past decade and all I can say is PHEW! Now this is more like it, Nancy. The CD titled 'Nancy' is fucking fantastic. Pure Nancy Sinatra, even if Nancy Sinatra herself didn't seem to know what that was based on her last couple of efforts. You see, Nancy was never a great vocalist, and at times you weren't sure if she had any artistic vision herself, but when she works with the right people, she's brilliant in a 'Nancy Sinatra' sort of way. Back in 'the day', Lee Hazlewood, an odd bird himself used Nancy as his artistic vessel. Filling her with the attitude and icy cool delivery that would become her trademark. Their collaborations remain a curious blend of alt-country/go-go/pop rock that sounded like nothing of it's time and really, nothing since, with Sinatra's vocals ranging from monotone indifference to a bitchy snarl. Sort of pre- Debbie Harry, but Debs took it to the next level..., Like I said, Nancy's vocals are besides the point here. It's the delivery, baby. Collaborators include Jarvis Cocker of Pulp, Morrissey, and Thurston Moore, with a song that you probably never expected to hear Nancy Sinatra sing called 'Mamma's Boy'. I'm starting to sound like a smarmy rock critic, and I'd like to think I'm too attractive to be a rock critic, so I'll just leave you with this- buy it.


posted by David on 10/11/2004 05:11:00 PM | Link |
10/08/2004
My Way of Life
Dear Pigf*cker...,

Maybe they can target HBO's Real Sex next. Most of the people they show naked on that show are far more vile then any pig. Really, how many more times are they going to show fat old hippies teaching losers how to yodel in the canyon?


posted by David on 10/08/2004 04:32:00 PM | Link |
10/07/2004
My Way of Life
I'm waiting two items in the mail. First, is The Snake Pit, a 1948 film starring Olivia DeHavilland as a woman committed to a state asylum and can't remember how she got there. The reason for this purchase is my desire to write a 'women in prison' type of show. Most likely a musical. I'm also bidding on a rare film aptly titled 'Women's Prison' starring the imitable Ida Lupino as the cruel prison warden. I've heard a lot about this film and am looking forward to seeing it as well. I do have many of the 70's women in prison films including Caged Heat and The Big Bird Cage but I want to explore the genre from the 40's and 50's. The way I see it there's different types of 'women behind bars' films. Reform school, 70's nudie/lesbian types, mental illness and the old fashioned good girl/wrongly convicted type from the 40's and 50's. Maybe a dash of them all...,

The other purchase I'm waiting on is the new Nancy Sinatra CD, titled 'Nancy'. It has a little help from Morrisey, Bono, Jon Spencer, and other older hipsters that are Nancy fans. She's getting a lot of press on this one as her big Loretta Lynn type comeback, although she's already tried to make a couple of 'comebacks' that have failed due to incredibly bad choices song and production wise. Her last one 'California Girl' contains songs relating to uh, California. It was a mixture of old songs from the 60's that she re-released, and new covers of things like the Eagles 'Hotel California' and Cheap Trick's 'California Man'. Now I love Nancy Sinatra, but even I couldn't listen to her cover of 'Hotel California' without wincing. Let's hope this new effort is better.



posted by David on 10/07/2004 04:29:00 PM | Link |
10/06/2004
My Way of Life
I've spent the morning trying to figure out what we're doing and where we'll be for the upcoming SCARRIE rehearsals and let me tell you it is a pain my royal ass. It's the nature of the beast and I really have no choice but to remain patient, but jeez, Louise, why can't things just happen instantly? What else do I have to do? Decide what costume pieces (wigs, capes, towels) we need. Find them. Decide what sound cues we need. Find them. Decide who to invite to the dress rehearsal and how many the cast can invite. Decide on the best way to invite people. Decide what props to use (pig, crown). Chairs? Do we have enough? Music stands? Do we need a mike or two, or 3? I also have to go shopping with our costumer for How Whatever Happened to Baby Jane Happened to get a new Joan ensemble for the Bailiwick Trailblazer Awards. I have to have a new dress when I meet Charles Busch as Joan Crawford and I've decided to come as glamour Joan in the 60's. I have a video with Joan on Password and What's My Line? and she looks like she's at a royal ball sitting next to Susie Smith, the homemaker from Dubuque, IA. It's priceless! That's the Joan I'm going for. It will also require new hair, which Ludwig has agreed to style in one of Joan's famous updo's of the sixties. Yes, that's Joan with newcomer Steven Spielberg in 'Eyes'. Bette Davis reportedly turned down this classic Night Gallery role (the pilot episode) because she refused to work with such a green director. What a dope. This is one of my ABSOLUTE favorite Crawford performances. Joan plays a rich, arrogant, blind woman who blackmails a doctor to give her an eye transplant so that she may see for just an hour. The sad sack that sells his eyes is none other then Happy Day's 'Mr. C ', Tom Bosley. As in all Night Gallery episodes, things don't quite turn out the way Joan planned...,


posted by David on 10/06/2004 07:11:00 PM | Link |
10/05/2004
My Way of Life
Last night we had the one rehearsal we're having for the week and although there were a few people MIA it went quite well. Taylor brought in the rest of the band to sit in during the process and a good time was had by all. Our next rehearsal is Sunday and I'm awaiting word from Brooke Allen as to where that might be.

People are starving and we're at war but at least we have this. I suppose this is where my age comes into play. The prospect of a new, moody Batman movie interests me, but He-Man?

In the 'I Told You So' department, I believe I alerted most of you to the fact that the Catwoman movie looked sucky based on the costume alone. That awful, 80's metal rocker-dude jerk-off fantasy thing. NO class whatsoever, and Catwoman is CLASSY, baby. Perhaps Halle Berry will be in the upcoming He-Man movie since the woman would probably paint her face purple and stick squirrels up her ass if they paid her enough. That would most likely get her her second Oscar.


posted by David on 10/05/2004 03:55:00 PM | Link |
Crane, like the bird...,

The legendary Hitchcock icon/actress Janet Leigh died yesterday. Miss Leigh was one the last of a dying breed of actresses from a bygone era. Always gracious and always classy Miss Leigh was in number of classic American films. RIP Marion Crane.

posted by David on 10/05/2004 12:36:00 AM | Link |
10/04/2004
My Way of Life
The King of Schmaltz has been in a tizzy lately. Either he goes to a meeting or it's time to put him down...,


posted by David on 10/04/2004 10:48:00 PM | Link |
My Way of Life
Melissa

I wanted to share this link with you. No, it's not from my childhood photo album. I just couldn't not share it with you. As Donna Dasher says, 'Just think of all the little horror stories that go on in other people's lives..."


posted by David on 10/04/2004 08:11:00 PM | Link |
My Way of Life
Chris and I ventured out to Aurora, IL today for our very first visit to an outlet mall that housed verything from Versace to Big Dog outlet stores. I have to say I wasn't terribly impressed but Christopher had a sizable Kenneth Cole gift card so he got a snazzy leather jacket and because I'm such a good sport and loving wife I got a Geoffrey Beene shirt (for work), a cool pair of Calvin Klein socks, and a jumbo Silly Putty as a consolation prize. The Versace store had things that I couldn't even afford

half off

..., I

hate

being limited. When I got home I had to take care of some theater business that I

hope

is just a misunderstanding and wait, I should make some CD's for the SCARRIE cast...so I'd better go.


posted by David on 10/04/2004 03:09:00 AM | Link |
10/03/2004

Just came back from dinner and a movie with Christopher. We saw The Motorcycle Diaries. The director, Walter Salles describes it as 'The story of two young men who leave on an adventurous journey throughout an unknown continent, and this journey of discovery becomes one self discovery as well...'

The two young men are Alberto Granado and Ernesto Guervara (Gael Garcia Bernal), later known as 'Che' Guervara. It was a beautiful film with moving performances, but the director should also mention that Ernesto Guevara

also

discovers that he is the most beautul man in South America. I mean, really...he looked like somebody from 'The OC' visiting the set of 'Freaks'.

posted by David on 10/03/2004 05:56:00 AM | Link |
10/02/2004
My Way of Life

Tragic Queen #2

posted by David on 10/02/2004 07:46:00 AM | Link |
My Way of Life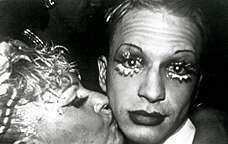 Tragic Queen #1



Tonight I had the pleasure of reading James St. James cohort and confidante of the sad Michael Alig and Marilyn Monroe. Don't tell me I don't have range! I could on and on like a good Bloggger about the cost of fame, but it's late and my thanks to the great cast and crew (Adam) at Verbatim Verboten.


posted by David on 10/02/2004 07:39:00 AM | Link |
10/01/2004
My Way of Life
We Need Your SUPPORT!


Hello all you love bunnies out there! This is Jayne, baby. It takes a lot for me to leave my oh so comfortable heart shaped pink cloud up in Heaven but I wanted to let you all know that Hell in a Handbag Productions, a dreamy group of cats dedicated to the preservation, exploration and celebration of works ingrained in the realm of popular culture via theatrical productions through parody, music and homage needs your help!

I mean, who else is going to teach are children about Joan Crawford, The Poseidon Adventure, or yours truly???

On Sunday, October 31 (Halloween) those kooky kids will be hosting their Annual Benefit at Theatre Building Chicago. This event provides a

LARGE

percent of revenue for every little thing they do for you. Among the 'integral' parts of this events success is their raffle and silent auction. YOUR donation would help to ensure their success! So dig deep into your heart and donate any furs, jewels, Ipods, gift certificates, booze, food, or stocks and bonds that you can get your hands on!

They also wanted me to tell you that they're a 501 (C) not-for-profit theatre company and all donations are tax deductible to the extent provided by law, although I don't know what that means...,

Please help out these gifted and handsome boys and girls because let's face it, glamour costs money!

If you have any questions please contact the very single, handsome and talented Benefit Chair and Handbag Ensemble Member, Derek Czaplewski at 773/859-1334, dczaplew@yahoo.com

Go ahead, ask him for a date! I would, but I'm dead...,

Love,

Jayne











posted by David on 10/01/2004 05:25:00 AM | Link |