FUN LINKS
Chicago Theater
and also in Los Angeles...
and also in Baltimore...
Blogs We Love
People We Love
POSEIDON!
Handblog Archives
And also...
David interviews Margaret Cho
read the handblog...
8/31/2006
My Way of Life- RIP Glenn Ford
posted by David on 8/31/2006 06:41:00 PM | Link |
My Way of Life
Last night we discussed our characters, danced, and even sang the opening number, which is coincidentally titled Caged Dames . It's always fun to hear how others interpret your work, especially when they're dead on right, so I really had nothing to add to what our director, Scott Bradley had to say. Our choreographer, Kevin Bellie was a doll, putting us through a routine to see what we could do. I think I have a good chance of getting a 'special' dance solo. It's so special, I'll be onstage, but I won't be visible to the audience. I'll be in a refrigerator box! Kevin explained it to me and he said all the really big stars have done it. I think I was able to master ONE of the steps he gave us. It takes mother a long time to learn these things and thank I GOD I won't be onstage for the entire opening number. I told you Scott was smart. Andra Velis Simon tested our vocal chops and like I said, we started the opening number. When I write a song, I know there will be harmonies but I don't really think about that. Now that I'm singing harmonies it's like learning the song all over again after I've been singing the lead for months in my head now. So there's that challenge. Did I mention the acting?
Oh only hope I can be as good as Bill and Taffy.

posted by David on 8/31/2006 04:05:00 PM | Link |
8/30/2006
My Way of Life- and now for the news...
posted by David on 8/30/2006 08:02:00 PM | Link |
8/29/2006
My Way of Life
Beware of Samoans that travel in pairs...
posted by David on 8/29/2006 10:10:00 PM | Link |
My Way of Life- There's No Business Like...
posted by David on 8/29/2006 05:40:00 PM | Link |
8/28/2006
My Way of Life- Even more reflection
Sunday Christopher and I attended a memorial service for a yet another friend that passed away suddenly and much to soon. His name was Jim Grassi, and I met him when I changed a few things in my life 13 years ago. We weren't close, we didn't hang out, but Jim was always a nice, honest and straight up kind of fellow. He was a handsome and intelligent person who had chest pains, called the doctor, went to get a prescription and apparently had a heart attack in the car on the way to the pharmacist. Just that quickly. I didn't know Jim's partner but I certainly felt his pain as he sat in the obligatory widow's pew in the front row of Unity church. I saw the back of his head shake as he cried and I stroked the top of Chris's hand.

posted by David on 8/28/2006 06:04:00 PM | Link |
My Way of Life-Lifetime Awards
This weekend also brought on a lot of introspection, and no, it wasn't the Dick Clark tribute that brought this on. Saturday I attended a the second annual Grigsby Award ceremonies at Live Bait Theater. I went because they were giving it to Brigid Murphy, who's a solo performer, all around fun gal, and sort of legend in this city. I also went beacuse I love hanging out with my superstar friends, David Kodeski and Edward Thomas Herrera. They're the Steve Allen and Jayne Meadows of Chicago. No, really, they are, and I would pay money to see them dressed as that.
Brigid is still young and very vital. She's just crammed a lotta livin' into the years she's been here, and with everything she's been through she's very inspirational as well. I met Brigid in the late 80's when I was a bit of a club monster. I was working at Limelight and on Sunday I was the bartender at the Paradise disco on Sunday afternoons for their ill-fated New Wave T-Dance. That's where I met Billy Swindler. Billy would come to the bar every Sunday and sit with me and talk. He was in town doing Pump Boys and Dinettes at the Apollo Theater, which to me at the time seemed so very glamorous. He wore old horn rimmed glasses, had a crooked smile and was very very sweet and charming. His best friend was Brigid, who was just starting out at the time and they both were always involved in some kind of performance art thing. I was not. I dared not utter a word about any artistic aspirations I might have. I expected stardom to be brought to me on a silver platter because even though I loathed myself I felt I was entitled to everything. I fucked up any chance of an ongoing thing with Billy, but I also think Billy had another life I didn't know about. Brigid was just FUN, and I always looked forward to hanging out with her, and she loved Billy. Very much. Fast forward a few years. I 'm finally at a Milly's Orchid Show, and yes, it's every bit of fun I heard it was. Amazing. Intermission. After not seeing Brigid or Billy for years I run up to her, say hello and ask if she's heard from Billy. I'd like to write him. Brigid, decked out in her Milly costume lowered her huge eyelashes and said 'Oh, David, Billy died...' The music started and it was her cue to go on and I just stood there- numb.

posted by David on 8/28/2006 05:06:00 PM | Link |
My Way of Life- Awards suck-sometimes
I just finished watching the Emmys and as usual I'm aggravated. My girl, Lisa Kudrow lost to Julia Louis Dreyfus. While Julia is charming, and yes cute/funny/neurotic in the show that's 'okay', there's just no comparison as to who was more deserving. But of course the Comeback was probably just a little too weird for Emmy voters. At least she got a nod. Tony Shaloub as Monk. As Brigitte would say...REALLY? REALLY? The man gives an identical performance every show and he's so good he needs three Emmys? One is fine. Two is pushing it. But 3? Blythe Danner for Huff? Yeah. She's getting a lot of mileage out of that Bruce Paltrow connection. On the other side of the coin I was glad to see Mariska Hargitay win an Emmy. I think hers was a case of being well liked. She;s great in Law and order SVU, but...She could have mentioned Jayne and let out a squeal or something. Perhaps she was paying tribute to mother by way of figure. My favorite moments were Stephen Colbert saying what I thought when it happened. Barry Manilow just beat Stephen Colbert. God bless Stephen for saying it on national Television. I loved the Bob Newhart in a air-tight booth gag and I thought Conan did a good job. I thought he did the Music Man parody wonderfully. That's a hard one to recite! What else??? Oh, stupid Amazing Race won again? Project Runway is so much more interesting. I thought Dick Clark's appearance was touching and I'm sure superficial people all over the nation celebrated the reunion of the original Charlie's Angels. Those jerks could have given them a standing O. I mean, really, would it have killed them? Jaclyn Smith must drink the blood of infants. Tonight is proof that even when it runs on time the Emmys are boring.

posted by David on 8/28/2006 04:23:00 AM | Link |
8/25/2006
My Way of Life
Yeah, whatever, stupid lesbians.
posted by David on 8/25/2006 03:41:00 PM | Link |
8/24/2006
My Way Life- Old and hairy
posted by David on 8/24/2006 10:02:00 PM | Link |
8/23/2006
My Way of Life
posted by David on 8/23/2006 05:33:00 PM | Link |
8/22/2006
My Way of Life
Quick, somebody get Quentin Tarantino on the phone! SEVEN ANGRY LESBIANS! Starring Sharon Stone, Lucy Liu, Kathy Griffin, Viveca Fox, Tyne Daly, Shakira and...

posted by David on 8/22/2006 10:15:00 PM | Link |
My Way of Life- When you polish the floor you have to move the tree...
posted by David on 8/22/2006 04:03:00 PM | Link |
8/21/2006
My Way of Life
For the Project Runway fans out there here is writer Dave White's hysterical and dead on weekly account of the show. Love this guy!

posted by David on 8/21/2006 09:48:00 PM | Link |
My Way of Life
posted by David on 8/21/2006 04:04:00 PM | Link |
My Way of Life





I finally saw Reefer Madness The Musical at the lovely home of BC Kalz tonight and I enjoyed it very much except for the fact that the music was kind of blah. Of course I couldn't help but feel envious, but the script and actors were very funny. The lyrics were outstanding but the music sort of just laid there which may account for the fact that it didn't do well in NYC.That, or some critics are just assholes. Ana Gasteyer was the best part of the film. She's just great, and her acying style was very much in the vein of our new show, Caged Dames. Except that hopefully the songs won't just lay there.

posted by David on 8/21/2006 06:36:00 AM | Link |
8/18/2006
My Way of Life-Band Geeks: A Half Time Musical
posted by David on 8/18/2006 06:20:00 PM | Link |
My Way of Life- Myspace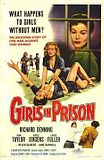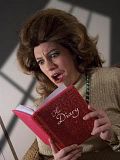 Come on, add Caged Dames to your Myspace so you're sure not to miss any show updates, plus, you'll always have a the schedule for the show and be able to read Warden Hope's Diary!

While your at it add Hell in a Handbag. All the kids and tech savvy sexual predators are doing it!

posted by David on 8/18/2006 06:08:00 PM | Link |
8/17/2006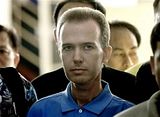 The Face of Evil?
Oh. My. God. Look at this face. It's really too perfect. And the quote...

"It's very important for me that everyone knows that I love her very much and that her death was unintentional, " said Karr, who sweated and stuttered occasionally as he spoke in a quiet voice.

Did you just shiver?

Does this mean America owes the Ramsey's a big 'Oops, sorry!' card? Does Hallmark make a card when you accidentally accuse parents of raping and murdering their own child because they're rich and entered her in beauty pageants?

posted by David on 8/17/2006 05:18:00 PM | Link |
8/16/2006
SCTV - High Q

I still laugh my ass off when Catherine O'Hara says 'Love to you Love You Baby'

posted by David on 8/16/2006 06:01:00 AM | Link |
8/15/2006
My Way of Life
I can't believe they stole my reality show idea.
posted by David on 8/15/2006 06:45:00 PM | Link |
8/14/2006
My Way of Life
So every homo and their mother saw Patti LuPone in Gypsy this weekend except ME. I'm told by more then one person she was FABULOUS! This concludes the big gay portion of the Blog. I went to see the the show that the Tribune and the Sun Times raved about, The Boys Are Coming Home, a musical take on Much Ado About Nothing set in the 40's after WWII ends. Perhaps I'm missing something but the usually generous Christopher agreed. It was a nice show, but just not rave worthy. The audience, most of them in their 70's were far more interesting. It was hard for me to figure out if they were just being older and unaware or just being assholes and pretty soon I decided on the latter. They don't move out of your way and when they want to have a conversation their favorite place seems to be in the middle of an aisle or why not just stop directly in front of you? Of course lines don't apply to them either. George Costanza had the right idea when he knocked the woman with the walker out of his way to escape the fire.

posted by David on 8/14/2006 03:46:00 PM | Link |
8/11/2006
My Way of Life- He's 39!
posted by David on 8/11/2006 05:34:00 PM | Link |

My Way of Life-How they POSEIDON! in Omaha

From the super talented cast at the Blue Barn theater production of POSEIDON! An Upside Down Musical directed by pal Randall Stevens.

posted by David on 8/11/2006 04:45:00 AM | Link |

Just Panties (What Else Do I Need?) POSEIDON!

Feel free to sing-along...

posted by David on 8/11/2006 04:28:00 AM | Link |
8/10/2006
My Way of Life- Bye Bye Bradley
posted by David on 8/10/2006 08:09:00 PM | Link |
My Way of Life- Yethderday
This may seem cruel but I HAD to post this...




posted by David on 8/10/2006 05:02:00 AM | Link |
My Way of Life- vote for Carol Gonzalez
posted by David on 8/10/2006 04:51:00 AM | Link |
8/08/2006
My Way of Life- the Supermarket Ogre


I had a full evening starting with a Chicago Comedy Association (yes, there is such a thing, and yes we know the website is terribly outdated) meeting, followed by a workout, then I went to the supermarket to buy all the reasons I'm working out. That's another post. I generally enjoy the grocery store when I'm not with Chris because I take as long as I want and I buy things that he chastises me for buying, then eats it, in like, 2 days.
Tonight I was cursed by a Supermarket Ogre. You know what those are, right? Really creepy people that stare at you in a non-sexual way and don't have very good supermarket etiquette, or etiquette in general. The Ogre was with Mrs. Ogre and it seemed where ever I turned my cart there they were. Supermarket Ogre's have no idea how to maneuver their carts when you are about to pass them even when you make it quite clear you will be passing in the side with the most room. That is their cue to move their cart in your path and verbally offer the new path to you as if you wouldn't know to not run directly into them. Fake smile and 'thanks'. Even when I thought I could avoid this by leaving my cart near the outskirts of the aisle it was to no avail. Of course Supermarket Ogre and his old lady decided to go for the shredded cheese today and guess where my cart was? And guess who had to take the cart when the Ogre has his hands on it back and forth? Fake smile and 'Thanks'.
posted by David on 8/08/2006 04:49:00 AM | Link |
8/07/2006
My Way of Life
We went to see Little Miss Sunshine Saturday and we (Ludwig, Ed Jones, Chris and myself) all loved it. The cast is outstanding with special props going out to Greg Kinnear and Paul Dano. Of course one of my favorite actresses in the world, Toni Collette is in this as is one of my crushes, Steve Carell. I also liked Beth Grant's hair. What's it about? A fucked up family on a road trip to a child's beauty pageant. You see, the VW Van represents 'life' and the family members have to push the van to make it go forward then they struggle to keep up with it and jump in and... it's just really sad and funny-like real life.
3 1/2 Handbags



posted by David on 8/07/2006 09:01:00 PM | Link |
My Way of Life- Underwater Sunday
posted by David on 8/07/2006 04:18:00 AM | Link |
8/04/2006
My Way of Life- Rebel Liza

1989. I wouldn't be caught dead with a Liza Minnelli record, let alone lead anyone to believe I actually enjoyed one. I had first this song at Berlin. I lived at Berlin in the 80's and the first half of the 90's. Why wouldn't I? I had all the booze I could drink and I never waited in line. I was one of the chosen cool people that they wanted in there to stand around and intimidate tourists. I had bartender friends like Cara and Tony, that knew a 'shot of Cuervo' actually meant a rocks glass filled 3/4 of the way that rarely got below the halfway mark and I had Maybelline Black Velvet eyeliner.

This was Liza's Pet Shop Boys collaboration and I recently rediscovered it when I bought the remastered /reissued version for Hickson's birthday. I couldn't resist. I had to open it and burn a copy for myself.

I have been listening to 'Losing My Mind' a lot. I like the overproduced 80's sound. Not all overproduced 80's sounds, but this one is particularly lush and clever and Liza sings this song as if her life depended on it. Her vocals remind me of the inner voice of the star of of an old MGM melodrama. Joan in Possessed? I had no idea this song was from a Broadway musical when I first heard it, I just thought it was rather...Haunting. Broadway musicals were another thing I wouldn't be caught dead listening to or acknowledging. I was tough. Glamour punk trash queen who could take 10 bucks and turn it into a weekend of partying.

Does the fact that I finally like Liza, this song and some Broadway musical make me an old...Older Queen?

I would be remiss if I didn't share My Liza Minnelli story- a favorite of BC Kalz. I was on the Belmont 'L' platform- waiting for a train back in the 80's or early 90's. Looking fabulous with eyeliner, my black stretchy pants, patent leather shoes and hair with the extended cockatoo bang. A guy who had been staring at me finally approached me. After talking to him for a few minutes he gave me his number. I felt very alluring until he said 'I had to talk to you- you look like a rebel Liza Minnelli'...
Of course I still hooked up with him... that's another story.



posted by David on 8/04/2006 04:31:00 PM | Link |
8/03/2006
My Way of Life

Who the hell needs to Blog when you have Youtube?
Now buy the Goddamned CD!



posted by David on 8/03/2006 05:50:00 AM | Link |
8/02/2006
My Way of Life
Congratulations to the savagely sly Hilary Sanzel. Nice review!

posted by David on 8/02/2006 10:26:00 PM | Link |
8/01/2006
My Way of Life- Friends of the Homeless
posted by David on 8/01/2006 09:06:00 PM | Link |
My Way of Life
My Baby Is Black!

I thought I'd get a little personal...

posted by David on 8/01/2006 06:27:00 AM | Link |