FUN LINKS
Chicago Theater
and also in Los Angeles...
and also in Baltimore...
Blogs We Love
People We Love
POSEIDON!
Handblog Archives
And also...
David interviews Margaret Cho
read the handblog...
1/31/2007
My Way of Life- Shut up, Tyra
God, please, God, somebody put some duct tape over Tyra Banks pouty lips and seal her in a crate. I doubt this would stop her from bitching to anybody that will listen to her but hey, it's worth a shot. Even I can't escape the media blitz of Tyra proclaiming 'I'm not fat!' to anybody that will listen. Yeah, you're not fat, but you're certainly not a role model either, which is what she seems to be tacking on to her 'I'm not fat!' declarations. My favorite show clip of hers is when she dressed in a fat suit and wandered through the streets as if she were a leper. Her voiceover was priceless and as stilted as her 'We're all girlfriends here' attitude on her show. The show, like most of her hard hitting, unflinching subject matters has a definite After School Special vibe, and not in a snarky ironic way. Let's face it, America be dumb and she's just giving them what they want.

posted by David on 1/31/2007 04:04:00 PM | Link |
1/30/2007
My Way of Life
Whatthefuck?
posted by David on 1/30/2007 11:49:00 PM | Link |
My Way of Life
Last night I went to the gym in my quest to remain reasonably fit. I say reasonably because I do not eat as healthy as a man my age should. I've always been underweight, so unlike others I'm just starting to see the effects of donuts and bacon on my body. Working out at least 3 times a week seems to counter the effects. I wish they had some sort of wrist steroids. You see, I have the wrists of a 10 year old girl. Always have. My ankles are really thin too. When I was a wee lad I had to wear high top type shoes to support my fragile like ankles. I wasn't aware of how thin I was until I got older and it was alarming to me! Particularly because the gays like the muscles. They say an overweight person always feel like a fat person even when they lose the weight. I have that problem in reverse. Compounded with my lifelong skin problem and general alcoholic big ego, low self-esteem mindset and I'm quite the catch! Chris is so lucky.

posted by David on 1/30/2007 06:47:00 PM | Link |
My Way of Life- Ed Jones in the news
Have you picked up the latest TimeOut Chicago to read the chat with Ed Jones, star of Caged Dames? Well, get your ass to the store right away. It's bound to be a collectors item.


posted by David on 1/30/2007 06:06:00 AM | Link |
1/29/2007
My Way of Life- RIP Liz Renay
One of those moments that makes you curl your lip and sadly say , 'Oh....' Whenever I think of Liz Renay I think of Brian or 'BC ' as you all know him. Her character, Muffy St, Jacque is one of his favorites and one of his favorite lines from the film is 'I sleep in the bed, NEXT (shaking chest) to you!'... you kind of have to be there to really appreciate it.

One of my favorite books is My Face for the World to See, Ms. Renay's 'colorful' autobiography. I made BC read a section of that book for his POSEIDON audition. I still think it would make a great play. She led an in incredibly wild life, even with all of her hilarious exaggerations in her book, it's still a great read. Other books include Staying Young and My First 2000 Men. She also had a mother daughter striptease act. I love that on so many levels. I wrote that into a play that has never been produced (because it was never finished).

Cult movie actress, gangster moll, painter, stripper, plastic surgery addict and DAME. Sounds like the perfect life. God bless, Liz...


posted by David on 1/29/2007 04:59:00 PM | Link |
1/27/2007
My Way of Life
Re-opening tonight. Where were you?

posted by David on 1/27/2007 07:15:00 AM | Link |
1/23/2007
My Way of Life- Name the Dame!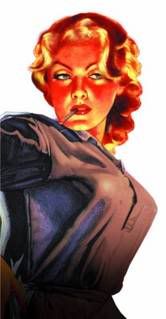 posted by David on 1/23/2007 10:24:00 PM | Link |
My Way of Life
Rehearsal was rough last night. For me at least. I forgot all of my lines. I broke my shoe doing a stunt. Carp told me not to wear those shoes but did I listen?

To give you an idea of how altered my part is take a look at this trailer. Just imagine that the blue sequined number is my new Warden Hope dress and the turbaned dames surrounding me are prisoners. This gives you a rough idea. The rest of the stuff is me and Ed during production meetings.



posted by David on 1/23/2007 07:06:00 PM | Link |
1/21/2007
My Way of Life
Being a star is hard.
10:30-Noon- Board meeting.
Noon to 5- Rehearsal, rehearsl, rehearsal. Harmonies with Jonny Stax. Dancing with Shawn Quinlan. Fight choreography with Carp.
6-7- Caged Dames DVD editing with Peter Mavrik.
7:30-9- The gym
9-10- Folding clothes
10:30- Order new butt and hips panties online.
Being a star is hard.

posted by David on 1/21/2007 07:16:00 AM | Link |
1/19/2007
My Way of Life- Plug for Jere
Here's a press release from

Jere Williams'

new show. Jere is best known to Handbagggers as Sheldon Glickstein in Rudolph the Red Hosed Reindeer 2003!

THEATER FOR THE NEW CITY PRESENTS THE WORLD PREMIER OF:
KRYPTONITE HEARTS

A new comedy by Charles BattersbyJanuary 25 - February 11



KRYPTONITE HEARTS is a pulse-pounding tale of romance, comedy and adventure inspired by 1940's comic books and radio shows! When Women's Air Corps pilot Wanda Worthington returns home from World War II, she quickly grows bored with the life of a housewife. Soon she takes to the rooftops of New York City as the patriotic crimefighter All American Girl.
Is post-war America ready for a "Girl Crimefighter"? Will she find love with the mysterious vigilante The Scarlet Skunk?Find out in Kryptonite Hearts!

KRYPTONITE HEARTS played to standing room only audiences at the Midtown International Theatre Festival's Reading Series, in the Summer of 2006. Theater For The New City is proud to present the first full production of this new play written by Charles Battersby, Directed by James Duff, and featuring Lizzie Pepper as All American Girl, with Charles Battersby as The Scarlet Skunk.

CHARLES BATTERSBY is a Theatre Critic who has written reviews and articles for Show Business Weekly, TalkinBroadway.com, NYTheatre.com and the Off-Off Broadway Review. In addition to his work as a critic, Charles is also a playwright and actor, known for his farce sTopless Go-Go Girls at the Troll Hole.

JAMES DUFF recently spent six months in India directing a feature film. His films have been broadcast on PBS and have won numerous awards at festivals around the world. In New York, he has worked with theatre companies such as the 42nd Street Workshop, The Ensemble Studio Theatre and Vital Theatre Company, He instructed NYU Tisch drama students and taught a directing workshop for UNESCO in Kenya.

LIZZIE PEPPER is an actress whose New York credits include: The Golden Bear at Theatre for the New City, Bonnie's B'Way Moon Song Shop at Theatre East The Folksbiene Yiddish Theatre, Godspell, Company, and The Wallenberg Mission. Regional credits include Rasputin staring Ted Neeley (Wilmington Grand Opera) and The Pirates of Penzance. Liz currently studies voice with Victoria Clark, and vocal coach Andrew Byrne.

THEATER FOR THE NEW CITY is a Pulitzer Prize winning community cultural center that is known for its high artistic standards and widespread community service. One of New York's most prolific theatrical organizations, TNC produces 30-40 premieres of new American plays per year, at least 10 of which are by emerging and young playwrights.
Kryptonite Hearts will run January 25 - February 11Thu-Sat 8pm Sun 3pmTickets $10.00At Theater for the New City155 First Avenue (between 9th and 10th Streets)
Buy Tickets and make Reservations(212) 254-1109 Or: www.theaterforthenewcity.net

More information on Kryptonite Hearts can be found at:www.charlesbattersby.com/kryptonitehearts.html
Kryptonite Hearts is not affiliated with DC Comics or Warner Bros.

posted by David on 1/19/2007 04:33:00 PM | Link |
1/18/2007
My Way of Life
So, what exactly is the etiquette when you run into somebody you really have nothing to say to anymore? This happened to me this past Sunday at a local coffee shop. Well, they were there and I was there and we clearly saw each other. I was meeting Scott Bradley the Caged Dames director and they were in a group of three so they clearly had the advantage and the wicked smiles started when they saw me. I don't hate them but I don't particularly care for them. Things with us were strained for a while but I did my best to overlook what I saw as rather juvenile behavior. Not even good, funny juvenile behavior, but dumb, really dumb behavior. I had a feeling that if I didn't dance to their tune I would be 'out', and my suspicions were confirmed when I refused to not associate with one of their perceived enemies. I admire their ability to promote themselves but behind the glitter there's not much else. So I sat there like an idiot until Scott arrived. It was nice to see that they got fatter.

posted by David on 1/18/2007 09:16:00 PM | Link |
My Way of Life
I tried to Blog yesterday but the website had other ideas. Briefly, here's what we did Tuesday evening. I would imagine Ed Jones enjoys beating the hell out of me. I mean, who wouldn't? Yesterday things were a bit snippy as Andra, our music director observed. She called us The Bickersons. I wasn't in a bad mood...just not the the best of moods, but I think we are all feeling a bit of pressure with the shorter rehearsal period, and changes. Scott Bradley, the director has a LOT to do. The brunt of the changes fall on the actual prisoners, or Dirty Dames, as we call them, and they're all doing beautifully. Abigail Trabue, our new Mary (the ensemble is full of old Marys), is giving it all she's got too. We cut the cast from 14 to 12, taking out two prisoners. The changes in the cast had to be made as it just made sense. Most people understand this and move on. Others do not... but it's really a 'You're damned if you do and damned if you don't' situation with them anyway and after the 117th episode of As the World Turns (Around Me), it gets boring and sad but there are no shoulders left to cry on anymore because everybody has run away.

posted by David on 1/18/2007 05:02:00 PM | Link |
1/17/2007
My Way of Life- Catfights
object width="425" height="350">

Last night we ran a lot of the new fights for Caged Dames and Ed Jones and I got down and dirty in the grand Dyansty style of Crystal and Alexis. It was great fun and let me assure you it's more then a simple punch. The great thing about it is I get to wear a new fightin' dress!

posted by David on 1/17/2007 07:47:00 PM | Link |
1/16/2007
My Way of Life- Banana Fana Fo Fama

Rehearsal was tough last night. I was late, delaying the start, and when people are new, missing or unaware what show they're in it can go slow. If only we could sing without dancing, but people actually have the audacity to expect both.
Barack Obama has began the process of running for president of the United States. His name is so melodic, I always think of one of my favorite songs of all time, The Name Game by Miss Shirley Ellis when I hear it. Obama, bama, bo-ama, Banana-Fana, Fo-Fama, Fee-Fi, Fo, doe-Dama, Obama! Did I ever tell you about the time I had that song BLARING in my Beetle and pulled up to the 7-11? When I rolled up the window an got out of the car a bunch of teenagers in the next car, looked at me, paused and just burst out in laughter. I was puzzled until I realized the MARSHA, MARSH BO BARSHA lyrics blaring from this old fags car would have made me do the same thing. Anyway, where was I? Barack Obama.
I hope some nut doesn't shoot him.
posted by David on 1/16/2007 04:37:00 PM | Link |
1/15/2007
My Way of Life
My goodness, rehearsal was big and long Saturday followed by 90 minutes of editing and adding sound cues with Rob Steel, the man with a million sounds. My favorite sound cue is having sweet, innocent Annie Gloyn repeat 'Your VAGINA!', over and over and over very loudly. It's a good thing they live in a solid old building. By the time I got home I was in no mood to leave the premises so I missed Chad's birthday gathering.

Friday we saw Ugly Baby at the Strawdog space, written by Caged Dames costume designer Philip Dawkins. Philips' friend Dan Savage and his bf were there and I wanted to tell him how much I enjoyed his column but I felt stupid, so I looked at him and then looked away a couple of times, which I'm sure made a great impression. Mr. Savage works out.

If you can, you should catch Ugly Baby for its laugh out loud moments and 'give it all they got' performances. My girl Miss Jaya (of SCARRIE fame) is in it along with Nick Lewis, a girl I don't know, and the fabulous Stephen Rader, who pulls a wonderful Dead Ringer performance out of his bra.

posted by David on 1/15/2007 07:28:00 PM | Link |
1/14/2007
My Way of Life- Paula Abuloiishpoaihf'pfhfighssshhhh
posted by David on 1/14/2007 06:40:00 AM | Link |
1/12/2007
My Way of Life- Name the Dame!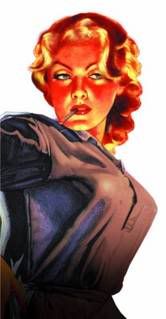 So, as you may or or may not know the gifted Michael Miller who, besides portraying everyone from Manny Rosen/Jack Albertson in POSEIDON!, to Sally O'Toole, the Lifer in Caged Dames, is also a very talented graphic artist. He created this archetype DAME that you see in all of the Caged Dames promotional material. I love her because she so represents the idea of the show in a single glance. She doesn't have a name. Can you think of the perfect name for her? I'll start. How about...Mamie? There will be a prize... Lets make this one for non -ensemble members. That doesn't mean ensemble members can't offer suggestions. We'll pick the top choices and have an open ballot. Perhaps the prize is a trip to Calumet City, Illinois? Or not.

posted by David on 1/12/2007 05:41:00 PM | Link |
My Way of Life
Last night we had Caged Dames rehearsal -music. Jon Steinhagen has written some pretty awesome arrangements for many of the songs in addition to Annie Clapper's already awesome arrangements and Andra Velis Simon is teaching them to us. I have to say the cast is pretty stoked about the changes so hopefully the audience will be too. We've been rehearsing for 2 weeks now. Boostin' replaces I Had a Mink and one of the advantages o f a remount is being able to write with certain people in mind since well, you sort of know who's going to be singing what. The song fits the the show better as it is about the life of a high end shoplifting broad, and who better to sing that then Tina Haglund?

When I got home Christopher surprised me with many of our Christmas decorations displayed on the dining room table. I had planned on starting this project but of course Chris's plans supersede all others. I happily started the process of packing all the delicate little porcelain cottages and glass ornaments away. I'm such a good wife.

PS- Happy birthday to Handbagger and STUD ELF w/buttless chaps, Chad McLaughlin.

posted by David on 1/12/2007 05:15:00 PM | Link |
1/11/2007
My Way of Life- Home is where the trash is...
This story is sooooo Hammond, Indiana

posted by David on 1/11/2007 09:47:00 PM | Link |
My Way of Life
Kudos to 'retired' stage actress and ensemble member Merrie Greenfield for getting listed in New City's Top 5 for 2006 in the actress category for Invasion of the Minnesota Normals. Here's the link. Keep scrolling down and you'll find it. New City has about the worse website ever and they don't bother to attend our shows but we're glad for Merrie. The show was also listed in the Chicago Tribune as a favorite 'fringe' show of the year. Congrats Merrie. Retirement has been good for her.

posted by David on 1/11/2007 05:43:00 PM | Link |
My Way of Life- Hairspray stills
Okay, this looks lame. Particularly the wimpy hair. It's NOT big enough, and John Travolta looks creepy.

posted by David on 1/11/2007 04:38:00 PM | Link |
1/10/2007
My Way of Life- Farewell Lily!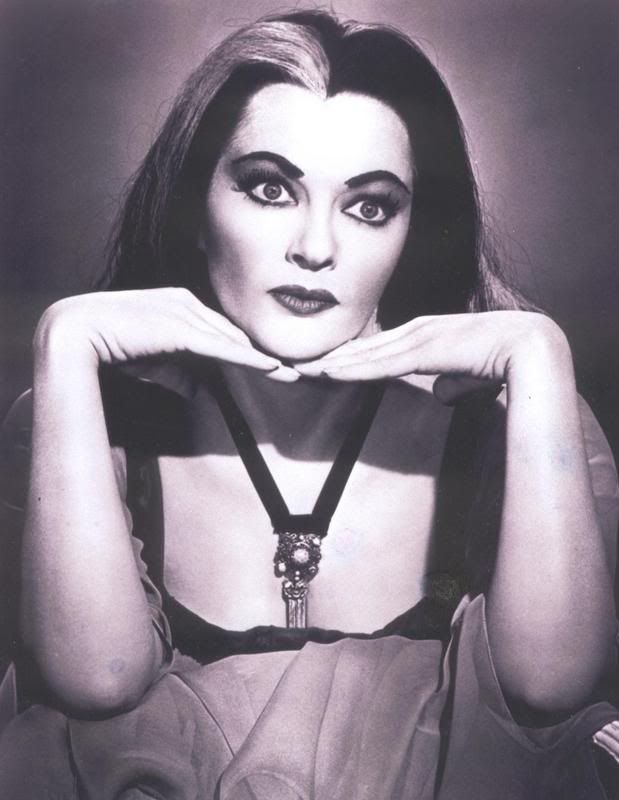 Yvonne DeCarlo (1922-2007)

Lets face it, the Munsters was, for the most part, absurd and horribly written. The reason the show lives in in rerun eternity is the the stellar cast. Fred Gwynne, Al Lewis and Yvonne DeCarlo made that show. It took me some time to realize that the Munsters had flashes (perhaps accidental) of brilliance. Sure, the Addams Family were cool and bohemian, but they knew they were cool, and they were rich. The Munsters just wanted to be a NORMAL working class family and they had no idea how bizarre they appeared to others. The harder they tried to appear normal the weirder they were perceived. Sound familiar? How many of us have felt like a 'Marilyn' in a family of Munsters? I'm sure millions of Goth Girls are mourning the death of the exquisite Yvonne DeCarlo.
posted by David on 1/10/2007 09:37:00 PM | Link |
My Way of Life- Casting Notes
Lots of casting news to report in the world of Handbaggers past and present. Brigitte Ditmars, our marvelous Mary Anderson in Caged Dames will be appearing in Circle Theaters production of Mack and Mabel in the role of Lottie, opening February 28 . The production also features our pal Jon Steinhagen taking on the role of Mack Sennet, you know, the role that David Soul did after Starsky and Hutch.... Jon also did the new arrangements for Caged Dames! AND his new musical The Teapot Scandals produced by the Porchlight people opens Handbag stalwart Peter Storms is in the musical director chair so you know it's going to be good.

New ensemble member and blowsy broad extraordinarre, Trista Smith, is in Porchlight's Assassins! as some lady. I didn't know Ethel Merman was in this show (maybe she tried to kill LBJ or Nixon). Anyway, we all adore Trista and can't wait to see her. Trista was Trixie and Typist/Guard in Caged Dames. We now have former Aggie, Annie Gloyn in the role and we're pleased as spiked punch!

Former Handbagger Steve Hickson is in Sordid Lives, and I have to say he is perfect for the part of Brother Boy, the transvestite Tammy Wynette lovin' character made famous by Leslie Jordan in the cult film version of the same play. I don't really know a lot about the Easy Street Players but of course 'Easy Street' is a place people strive to be.... I'm sure Miss Hickson will give it all he's got. Sordid Lives opens January 18 at the Atheneum, and anybody that can get the Atheneum to return phone calls must be doing something right.

posted by David on 1/10/2007 07:54:00 PM | Link |
My Way of Life
Did I mention that

Rudolph the Red- Hosed Reindeer

was extended in Los Angeles? You can still catch it this weekend. It got great reviews and is doing very well. I found most of the reviews myself as I haven't really heard from anyone. I'm glad they're doing well even though there were some changes in it that were never run by me, which I wasn't exactly thrilled... Oh well, live and learn, huh? One cool thing I did find was a Rudolph mention in the Defamer column in the same breath as Blondie. How cool is that?

posted by David on 1/10/2007 05:20:00 PM | Link |
1/09/2007
My Way of Life- Where am I?
God. I left work early today to meet Peter M. at 6pm to see the Chicago opening of Doubt tonight and waited, and waited and waited. Peter never showed up because the opening is tomorrow. I thought he said January 8 but the e-mail he sent said January 9. We're going the over Jon Steinhagen's fantastic new Caged Dames arrangments so I can't miss that. High class problems. No, I'm not getting senile, I was born this way.

posted by David on 1/09/2007 05:20:00 AM | Link |
1/08/2007
My Way of Life- You're Gonna LIKE Me, not LOVE
I finally saw Dreamgirls because I was under threat of having my gay card revoked and not having anything to talk about at any theater party for the next year. I guess I shouldn't be surprised, but it didn't live up to any of it's expectations. Yet another case of media overkill for poor Miss Hudson. There's no doubt she will nominated and possibly win and an Academy Award just because when the lemmings are told that something is good long enough they usually comply. Having seen another supporting actress contender, Cate Blanchett I can fairly say, that if it were between the two of them, Cate's performance is far more skillful and interesting, but as we know so much more then talent factors into the nomination and actual winning of awards. Particularly talent. Just ask the folks at the Jeff Committee. Mira Sorvino, Julia Roberts and Marisa Tomei are all very happy about this.

Dreamgirls was good, not fantastic, not spectacular, not amazing, but good. Nice. It was like a Lifetime movie with a big budget. The thing with Dreamgirls is, well, it's a musical, and unlike Chicago, it is basically the story of The Supremes and Motown, but with a Disney ending... so it's extremely predictable. The only way to really go one step beyond a biopic picture is with casting and direction. Am I right?

The casting is good. Very good. The surprises for me were Danny Glover, Eddie Murphy and...Beyonce Knowles. I thought her portrayal of the wooden little puppet girl was really good...or as good as it could be with the script. The actors barely had a chance to sink their teeth into anything substantial when yet another song started as soon as they uttered a few words. The dialogue was just an excuse to get to the next song as it should be I suppose since it's a musical, but boy did it get boring. Jennifer Hudson was really good too, but she had the best part. A chunky, tempermental diva with amazing pipes. It's kind of hard NOT to steal a scene. People did applaud for 'you're Gonna Love Me', and yeah , it's amazing but I can't imagine it being anymore amazing then when crazy ass Jennifer Holliday did it. I don't mean to smite Miss Hudson. I think her story is incredible and obviously so does the press. But like anything halfway decent, the press seems determined to shove it down our throats until it makes us sick and want no more to do with it and I'm afraid that might happen to Jennifer.

The direction was...well I expected a little more, but given the predictable Lifetime script it was well, not meant for the screen in the first place. It's a stage musical, and the sets and costumes and songs are the thing. People never went to see that show for it's script. They wanted the divas and the sequins. I mentioned Chicago earlier. At least Chicago had imaginative abstract, surreal moments and I expected Mr. Condon to come up with fresher approaches to some of the scenes, but he didn't.

Oh, and Urkel's in the movie, and apparently nobody ages in 9 years in Dreamgirls time.

2 1/2 Handbags

posted by David on 1/08/2007 04:13:00 AM | Link |
1/04/2007
My Way of Life- Think you know me?

Create your own friendquiz here



Brigitte's a bad influence...

posted by David on 1/04/2007 10:47:00 PM | Link |
My Way of Life
So I took this quiz off of Brigitte's Myspace page. EWWWWW! I hate this musical even though I've never seen it. It's just one of those things I know deep down in my soul...



posted by David on 1/04/2007 08:16:00 PM | Link |
My Way of Life- Drama!
So I have been the recipient of another rather racist and juvenile comment on my Blog about what I supposedly like to do with men of the African American persuasion. I have know idea how the nutty poster came to the conclusion that preferred the company of darker men.




If I even attempted to explain what I think or thought the source was you indeed come to the conclusion that my life is a B-Movie, a big overblown , bad one at that. The kind I like to watch. As for black men? I like all men.


posted by David on 1/04/2007 06:33:00 PM | Link |
1/02/2007
My Way of Life-2007
It doesn't feel like a new year or a new anything to me. I have no idea why. Sometimes I think if I could just bottle these waves of blue I get there would be no war. There'd be no anything because nothing would get done. I went smoke free for 24 hours and I thought I would kill something. I didn't tell Chris. We had a hell of a Handbag celebration Saturday night. The star of the party? Rick Aguilar's hot dish.





posted by David on 1/02/2007 09:18:00 PM | Link |